Part Seventy-Six
in an Ongoing Series. (Previous parts linked at end of post.)
Are you fucking kidding me,
Josh Marshall
? Because I quite honestly can't believe that a person who identifies as a progressive and has two brain cells still knocking together doesn't understand why it's
problematic
, to put it charitably, to frame Hillary Clinton pushing her male chief strategist from power as "gelding" him.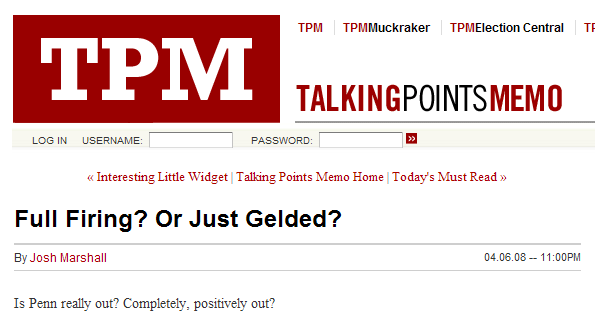 * * *
I find it difficult to believe that a man of your intelligence doesn't know that "to geld" means to castrate, and I find it similarly difficult to believe that a man of your experience doesn't know that powerful women are routinely cast as castrating bitches, and I further yet find it difficult to believe, in light of your constant reminders that you've spent a good part of your adult life defending the Clintons, that you are totally unaware of the existence of "hilarious" novelty items like
the Hillary Clinton nutcracker
. So where exactly is the disconnect, Josh, that allows you to use such disgusting language in reference to a sitting senator and presidential candidate? Or any woman, for that matter.
With "allies" like these...
[Hillary Sexism Watch: One, Two, Three, Four, Five, Six, Seven, Eight, Nine, Ten, Eleven, Twelve, Thirteen, Fourteen, Fifteen, Sixteen, Seventeen, Eighteen, Nineteen, Twenty, Twenty-One, Twenty-Two, Twenty-Three, Twenty-Four, Twenty-Five, Twenty-Six, Twenty-Seven, Twenty-Eight, Twenty-Nine, Thirty, Thirty-One, Thirty-Two, Thirty-Three, Thirty-Four, Thirty-Five, Thirty-Six, Thirty-Seven, Thirty-Eight, Thirty-Nine, Forty, Forty-One, Forty-Two, Forty-Three, Forty-Four, Forty-Five, Forty-Six, Forty-Seven, Forty-Eight, Forty-Nine, Fifty, Fifty-One, Fifty-Two, Fifty-Three, Fifty-Four, Fifty-Five, Fifty-Six, Fifty-Seven, Fifty-Eight, Fifty-Nine, Sixty, Sixty-One, Sixty-Two, Sixty-Three, Sixty-Four, Sixty-Five, Sixty-Six, Sixty-Seven, Sixty-Eight, Sixty-Nine, Seventy, Seventy-One, Seventy-Two, Seventy-Three, Seventy-Four, Seventy-Five.]