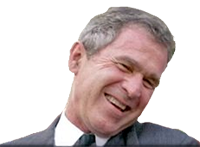 On the worst list
:
President Bush has set a record he'd presumably prefer to avoid: the highest disapproval rating of any president in the 70-year history of the Gallup Poll.

In a USA TODAY/Gallup Poll taken Friday through Sunday, 28% of Americans approve of the job Bush is doing; 69% disapprove. … The previous record of 67% was reached by Harry Truman in January 1952, when the United States was enmeshed in the Korean War.

…Assessments of Bush's presidency are harsh. By 69%-27%, those polled say Bush's tenure in general has been a failure, not a success.

…His approval rating hasn't reached as high as 50% since May 2005.
Good thing impeachment was
taken off the table
by the Democrats, whose constituents' disapproval of Bush is
91%
.
273 days.
Sigh
.