[Part Eight in an ongoing series. Parts
One
,
Two
,
Three
,
Four
,
Five
,
Six
,
Seven
.]
In the
morning readings
, Petulant linked to a terrible story about a woman who had spent two years sitting on her boyfriend's toilet, causing her skin to grow around the seat, effectively attaching her body to the toilet, and resulting in atrophied muscles and disorientation. The woman is refusing to speak to police (and initially refused medical treatment), but the boyfriend claims it was her idea to sit on the toilet, and he kept her alive by bringing her food and water.
What he didn't do was call police or emergency services for two years.
Authorities are trying to work through all that now, trying to determine the
why
of it and if charges will be brought against the boyfriend, for, if nothing else, failure to seek help. It's pretty obvious that there's are serious issues underlying these tragic circumstances, whether it's some sort of psychological or emotional problem, abuse, or a combination thereof. This woman was being held hostage by a combination of circumstances—likely by her own psychiatric distress and the unwillingness or incapacity of her boyfriend to call for help much, much sooner than he did.
So naturally the most appropriate place to file this story for United Press International was
under
"Quirks."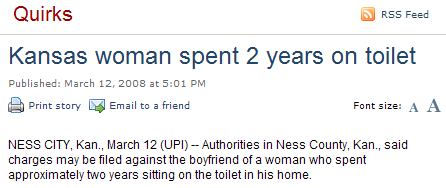 I remain, as ever, totally mystified by the media's insistence on misrepresenting tragic and upsetting stories as "Odd News" or "News of the Weird" or "Quirks." And while I am well aware that the technical definitions of odd and weird and quirky are appropriate, in that this is certainly an unusual story, the problem as always is that the typical fare rounding out these news sections are unserious. Also in the Quirks section today are:



There's nothing amusing or cute about a woman being stuck to a toilet for two years—but there it is nonetheless, next to pink poodles and vegetable-using clairvoyants. And it will end up, certainly, in the idiotic monologues of late-night talk show hosts, with sexist embellishments about the reasons she wouldn't come out—I can already hear Jay Leno jabbering about how she was having a "bad hair day" that lasted two years.

And part of the reason stories like this—serious, tragic stories about the disabled or the sick or the just generally fucked-up—end up in thoughtless, unfunny, unserious monologues is because the writers peruse the Odd News and the Quirks every day for joke fodder. Because everyone knows that's the section with the wacky news—the hilarious stuff that everyone will be talking about around the water cooler!

Not because it's sad, but because it's funny. Because it's zany.

And all too often, "zany" means "some random facet of women's experiences"—and relegating that story to the Odd News necessarily others women yet again by implicitly suggesting that women's experiences are odd merely by dint of their being the experiences of women.

Reuters Odd News is the worst—and today's collection is no exception:




A dozen pregnant women wanted—for ballet: "Far from being heavy, lumbering and clumsy, pregnant women are often fascinating, beautiful and serene, according to the artistic director of one British ballet company. And to prove it, Balletlorent is recruiting 12 pregnant women to star in a dance production alongside six professional ballet dancers."

The story is actually about a ballet called "MaEternal" which is about "the beauty of what it means to carry the life of another within you." The artistic director, Liv Lorent, "has always been keen to combine trained dancers with people from all ages and stages in life to make her ballet productions richer." She's doing something noble and interesting and progressive—but gets stuck with "odd" and a story lede designed to make what she's doing seem as ridiculous as possible.

Web site aims to help mail-order brides: "Canada can be a bewildering, even frightening place for immigrant women who arrive as mail-order or Internet brides, but now they have a new Web site to help smooth the transition. … [San San Sy, of Changing Together, a center for immigrant woman in Edmonton, Alberta, which helped launch the Internet help site] said foreign brides don't know where to find support and many are often shy or wary of seeking it. Others don't know their legal rights within a marriage or whether or not they have to have children."

I don't even know what's supposed to be "odd" about this story at all. That women are being helped? That there are people who care about mail-order brides, who are often imported by men that effectively turn them into sex slaves?

What irony there is, and it's not a little, in a story about the necessity of a website to help women who are othered by virtue of their frequently disconnected and segregated circumstances being stuck in the Odd News section, it has been lost on Reuters.

But not on me.

[Thanks to Amanda for the heads-up about the placement of the first story.]