One of my favorite sites on the web,
The Real Estalker
did a post about
Le Rêve
, an obscenely-sized mansion outside of Atlanta, GA that was built by Hubert and Norma Humphrey.
Le Rêve
, as described by the illustrious Real Estalker:
Ninety acres of rolling (and mostly manicured) grounds, 47,000 square feet spread over 4 floors, 300 miles of high-tech wiring, 82 rooms, (a shocking) 62 televisions, 7 bedrooms, 23

terlits

spread through 12 full and 11 half bathrooms, a 12 car heated and cooled garage, 10 fireplaces, a 4-acre private lake, a 2 lane bowling alley, 2 elevators and a private 18 hole golf course called the Humphrey National. Oh, and the steel and gold leaf front gates weigh 7,800 damn pounds.
Hubert Humphrey is the CEO and founder of various companies: Global Equity Lending (formerly World Lending Group), Global Realty Marketing (formerly World Realty Group), World Marketing Alliance, and World Leadership Group.
World Leadership Group offers a unique approach to starting a business. We understand the importance of a turnkey marketing system – one that helps you in every aspect of your business. The Leadership Format System is our turnkey marketing system. It gives WLG Leaders a proven, predictable plan for building and running a business. You run the system, and the system will run and help you build your business.
Corporate Narc
has a different evaluation of the company.
World leadership group scam(WLG) is a mortgage broker company that works as a franchise. What this means is that someone sells the loans to others. He gets to keep a certain commission from selling a loan to someone.

He can then recruit people to work under him and also sell loans. These people will pay him a small fee from their sale because he recruited them. This keeps going down the line for however many people work for them.

WLG scam also goes by many names. Some of them are the Global Equity Lending (GEL). This name is famous for having a lot of the scams associated with it. WLG also goes by the name of the National Lending Corporation (NLC). With so many names associated with this business it makes you wonder what they have to hide.

The problem with this system is people cannot find out who is truly in charge. There are so many people who are just above the next guy that it's hard to track down the management if something goes wrong.

Also, the management gets a cut from all the profits of everyone. This means they can sit back and do minimal work and get paid for doing it. This isn't a problem if they were doing some actual management work. However, when all they do is sit back and rake in the money that was hard earned by other members in the program it makes one question their ethics.

These types of companies have a reputation for cheating people and having a lot of scams involved with them. WLG scam is no exception to this general rule. A lot of people are suspicious of how much the top executives get paid by taking money off the top from sales. Plus for every sale you do there is a fee weather or not you close it. This means that people up top are earning a lot of free money.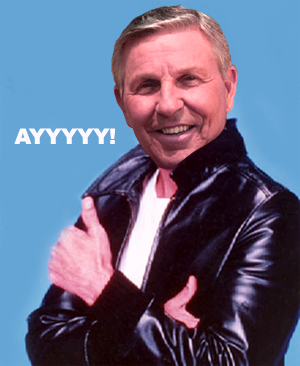 I just wonder how many subprime mortgages and shady dealings helped Hubert and Norma Humphrey build this monstrosity that they are now trying to sell. On the World Leadership Group website there is a video that screams infomercial and is filmed in the Humphrey's illustrious home. Learn more about their success and becoming a better person in their Ponzi scheme-like businesses.

Instant wealth schemes usually only payoff for the "management" and the paid actors in the brochures and infomercials.

Just wondering.

What gives me the sneaky suspicion that if HH saw Liss' graphic, he would think it was cool and want an oil painting of it to hang in the heated 12-car garage?

(Cross-posted at Petulant Rumblings)