Today is a day to be happy-go-lucky, like any other, for President Mondo Fucko.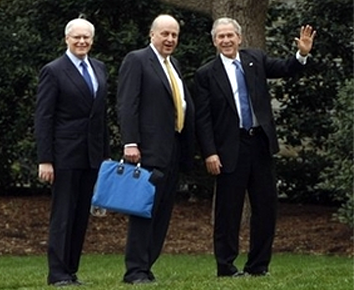 [
President Bush walks to the Oval Office of the White House in Washington, Wednesday, March 19, 2008, with, from left, Deputy National Security Adviser Jim Jeffrey and Deputy Secretary of State John Negroponte. (AP Photo/Gerald Herbert)
]
Five years
in, Bush
says
, "No one would argue that this war has not come at a high cost in lives and treasure, but those costs are necessary when we consider the cost of a strategic victory for our enemies in Iraq," and Cheney
doesn't care
that two-thirds of the American public no longer supports the war: "So? …I think you cannot be blown off course by the fluctuations in the public opinion polls."
What else is there to say? The warmongers have spoken.
And they don't care what we think.