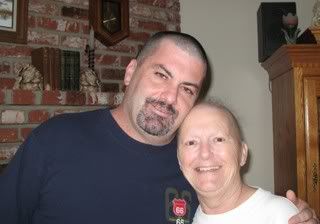 Last week I learned that my Mom may not live to see 2009.
Previously
I had written about my Mom
, an ovarian cancer survivor who was diagnosed with
Acute Myeloid Leukemia
on December 6, 2007. She underwent chemotherapy almost immediately after and left the hospital after 31 days there with the doctor saying her Leukemia was in remission. It wasn't.
As I write this now, my Mom is finishing another round of chemotherapy, and hopefully will be back home by Wednesday. She's currently feeling the effects of this round of chemo, with the nausea, vomiting, diarrhea and other side effects that go along with it.
My wife and I have spent the last 10 days or so here in Southern California with my parents, spending time with my Mom at the hospital and learning as much as we can about the disease. Last week, along with my sister, we met with the doctor that has been directing the effort to get a bone marrow transplant set up for her.
The doctor's name is Peter Falk, which is good for a laugh at a time when laughter can be a bit forced. We all sat as he outlined my mother's situation and asked him questions about what can be expected.

With just chemotherapy, there is a chance she will live a year or less. With a bone marrow transplant, a possibility of a cure exists, but the procedure is brutal with myriad potential complications. It is by no means certain she would survive that cure, especially at the age of 67. There are currently 24 potential donors, and we will find out soon whether any of them are a close enough match for my Mom.

Being a news junkie, I see and write about the death of others more often than I'd like. And no life is more important than another. But this is my Mom. And I love her more than I could ever express in a blog post. And the world would be lessened if she wasn't part of it for as long as possible.

My Mom is a 4-foot-11, 120-pound powerhouse. She handled a brutal chemo treatment and two surgeries to defeat ovarian cancer. She cares about others far more than she cares about herself, and even now from her hospital bed her main concerns are how everyone else is doing.

My Mom is as intelligent a woman as I have ever known, and my wife has wistfully imagined what she could have accomplished if her life was one that led her to college and career. She would have been brilliant in any field, but as any son is selfish of his mother, I'm glad she saved her brilliance for raising me and my sisters.

My Mom is as competitive a person as you will meet, and will thrash just about anyone - myself included - in Scrabble. But whether it's cards, board games, bingo or anything else, you can always see a small look of pain the few times she loses.

My Mom loves Jeff Gordon and the Pittsburgh Steelers. And if you want to find deals shopping, my Mom will find them.

My Mom is always one of the first to respond when anyone has any problem, health or otherwise. She is quick to donate her time to worthy causes.

My Mom has loved and been married to my Dad for nearly 50 years.

My Mom is a spectacular, wonderful woman, and I want her to stay around to enjoy her grandchildren and her great-grandchild.

We've had a lot of questions about how people can help, and I'd like to point you in a couple of directions. One, should my Mom undergo the bone marrow transplant, she will need blood and platelets. This is something the nation always needs actually, and we advise contacting your local American Red Cross, which you can find by clicking here. It is an easy to navigate Web site, but if you need to talk to someone in person, call them at 800-RED-CROSS.

As for donating bone marrow, here is a great place where you can learn nearly everything you need to know about being a donor and the how the transplant works. It's the National Marrow Donor Program and can be found at Marrow.org. You can contact their Donor Advocacy Program here: 1 (800) 654-1247 and they will get back to you promptly and answer any questions you may have. Because while it would be unlikely that your marrow would be the perfect match for my mother, it could be. But more importantly, you could save the life of someone else fighting this hideous disease.

Here is an easy way to find out about where to find a donor drive near you. Go to this page and look on the right-hand side of the page. You will see a 'Find a Donor Drive' box, where you can enter your zip code and find the closest place to get on the registry. It does not involve drawing blood, and usually just a swab from your inner cheek will give them the DNA they need.

To get on the registry will cost $52 to get the work done on your sample. So if you are someone who doesn't qualify as a donor, giving money to this program is also very valuable, as it can defray costs for others. Also, we are hoping in the future to have a drive in my mother's name both here in the High Desert of California, and possibly in Pittsburgh, as well. I will keep you posted.

There's a long road ahead for my Mom and Dad and for everyone that loves them, and we truly appreciate your thoughts, prayers and kind words. For those that have asked what they can do and said that they wish they could do more, I'd strongly advise going to Marrow.org and Leukemia.org and reading everything they have. Being educated on the subject of leukemia and on bone marrow transplants will truly help you feel more connected to my Mom during this journey.

But basically, this post is a plea for help. Any type of help you can give would be wonderful. If you're interested in starting a donor drive in your area, contact Pat Conlee at the National Marrow Donor Program at (714) 800-1630. She has been a wonderful, caring resource for me during this time, and I plan to work with her now and in the future to help those that need marrow transplants, and to help find ways to get people on their registry without having to pay the $52 fee, or having the fee lowered.

Also, my Mom has a Web site up where people can share their words with her. If you send me an e-mail at wkwolfrum(at)gmail(dot)com, I'll give you the information for that site if you'd like to leave her a message. But whether it's money, blood, bone marrow, kind words or prayers, anything you can offer during this time will be gladly accepted and appreciated. And for those of you with Web sites, if you could link to this post that would be wonderful.

There are still many decisions yet to be made and many forks in the road that will need to be navigated, but writing this from my Mom's home, I can truly say we have an abundance of hope, love and optimism. And every kind word, thought or prayer adds to that.

My Mom is amazingly strong and facing this illness with a bravery I could never imagine having. And she will beat this. But even with her amazing strength and bravery, she needs help to do it from doctors, nurses, family, friends, and well-meaning strangers.

Thank you again, and should you have any questions, please feel free to send me an e-mail - wkwolfrum(at)gmail(dot)com.

Bill