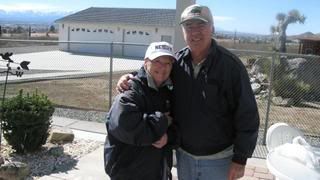 Yesterday turned out to be a very good day for my Mom, though she wasn't really able to enjoy it as much as she would have wished.
I got a phone call from her yesterday afternoon, and she said with tears in her voice "They're letting me come home."
So, with her round of consolidation chemotherapy finished and her platelet's not dangerously low from
her Acute Myeloid Leukemia
, my Mom is now home, resting in her own bed. She is still quite sick from the chemo however and had a bad night trying to sleep, as she was constantly affected by bouts of vomiting and diarrhea. But she is home.
It goes without saying that chemotherapy is brutal treatment. My wife relayed a parable about it from Brazil: A farmer calls a vet because his cow is covered in ticks. The vet says the solution is simple - just set the cow on fire and the ticks will be gone. Such is what chemo seems like.

Also yesterday they said they found no traces of leukemia in her bone marrow, which is good. But they said that before, so I'm still skeptical. Basically, while I trust her doctor, I don't trust Kaiser. But hopefully the prognosis is correct, because it will give my mom what she needs the most - time. Time to get healthy again, time to feel normal, and time to make decisions on when and whether to get a marrow transplant or to search other venues.

Mostly, I'd like to thank all the readers who responded, and even the ones that didn't who still sent their best wishes. The outpouring was very nice, and I printed out all the comments for my Mom to see. She was very touched that so many people she's never met would have such loving words for her.

And I'd like to thank Mike at Crooks & Liars for linking to the story today. He's a true champion for bloggers everywhere. And thanks also to Random Babble and Midget Queen for the linkage.

Mostly, thanks to all of you. For those that have gotten on the bone marrow registry and give blood, to those that are unable to for various reasons, to those who have helped spread the word in any way, and to those who share their love through comments and e-mails. You are all truly wonderful friends.

You'll be reading more about my mom in the coming weeks, months, and hopefully years. This is a project I will be working on for the rest of my life now. And I'm truly grateful to have so many allies in this journey.

Leukemia, Bone Marrow and Other Useful Links

Marrow.org
American Red Cross
Leukemia and Lymphoma Society (Thanks, Deepa)
Leukemia.org

If any of you have other links or resources, please let me know. And thanks again.


Bill