When the story of
Michael Vick's dog fighting
business came out, I was at once outraged and ashamed. Ashamed of myself for being outraged, in a way. Because I knew there were evil people out there who trained dogs to fight. I knew dog fighting existed. I knew pit bulls were the most abused dogs in the U.S.
But I suppose it took a big media event to take it from the back of my mind where I had hidden said hideous knowledge. And even with Michael Vick and cohorts behind bars, there is very likely a pit bull out there right now being trained to kill another pit bull. Just as there is a
pit bull
actually killing a pit bull right this very moment. While people cheer and bet.
While one can only hope that Vick's incarceration will help be the beginning of the end for dog fighting, it will take a lot longer to restore the image of the pit bull. Once the most popular dog in all of the U.S., it is a dog now feared by many, and wanted by few. Having once rescued a pit bull mix, I vividly remember be told at the pound that there was no realistic chance of it being adopted while in their care, and that it would most assuredly be destroyed. People are afraid of this breed. And while pit bulls have attacked people, and will again, it is because they were taught that behavior, not because the breed is somehow flawed. They are not a
breed without complications
, but they are not born blood-thirsty monsters.

The plight of the pit bull is brought to mind by a story in the San Francisco Chronicle about a pit bull rescue group in Oakland that is putting up five of Vick's former dogs up for adoption.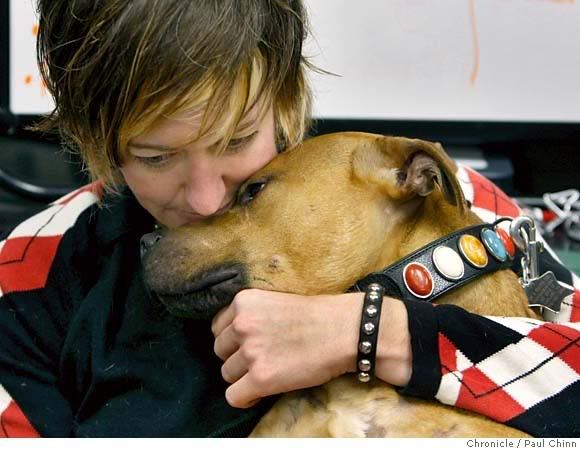 "Mike Vick's pit bulls up for adoption"
Five dogs that were rescued from the most notorious dog-fighting kennel in the country trotted out in Oakland on Friday to meet the public, wag their tails and try to dispel some long-standing human prejudices about canines.

They were, as always, man's best friend, even if man has not always held up his end of the relationship.

"This dog is somehow able to put its past aside and move forward," said dog lover Kim Ramirez, rubbing the ears of a 3-year-old pit bull named Teddles. "We humans can learn from that."

The dogs are pit bull terriers, among dozens rescued in a celebrated raid last year on the Virginia dog-fighting kennel owned by disgraced NFL quarterback Michael Vick.

Ten of Vick's dogs were awarded to Bad Rap, a pit bull rescue group in Oakland that has spent months evaluating and socializing the dogs and placing them in foster homes.

Friday, the dogs came to the main lounge at the Oakland animal shelter to meet the public for the first time in their new role as pit bull ambassadors.

"He's experiencing normal life now," said Ramirez, a Fremont resident who is looking after Teddles until a permanent adoption can be arranged. "He follows you into the kitchen. He's very gentle. He likes oatmeal. He likes rope toys. When you're a dog in a dog-fighting kennel, you don't get a lot of toys."

Bad Rap founder Tim Racer, who was holding another ambassador, Hector, in his lap and scratching Hector's ears, said dogs fight because dog owners train them to fight.

"Dog fighting is cruelty, which is a human activity and a human illness," Racer said. "It's not the dog's fault."

According to Racer, hardly any of the dogs at Vick's kennels were dangerous or unfit to be pets.


The dogs that will be put up for adoption by Bad Rap will be adopted. They are famous, after all, and that helps. But there's a long way to go for this breed. There are literally countless pit bull rescue groups all over the U.S., looking to help a breed that has been badly abused by humans.

It's heartening to know that these groups exist and are fighting voluntarily for dogs that were forced into fighting. More important, however, is that we don't forget what the dreadful Michael Vick story taught us - that we can't pretend that pit bulls and other dog breeds aren't tortured by sick individuals who will make them fight for their own pleasure.

And we can't hide from this knowledge any longer. Because at this very moment, a pit bull is getting its throat ripped out by another pit bull. And while that's horrifying to think about, it doesn't make it any less true. And it doesn't make it the pit bulls' fault. Hopefully, thanks to the work of Bad Rap and those like them, eventually we'll all come to recognize another truth - that pit bulls are good dogs.

Find out more about Bad Rap and the good work they do for pit bulls by clicking here.

My thanks to Shaker Vicster for the heads up.


--WKW