DrexelDem
pointed to
this one
in comments
recently: It's a photo of the men's bathroom at the Sofitel Hotel in Queenstown, New Zealand. These girlinals aren't quite as bad as the
women
-as-
toilets
series, but it's a sad commentary on the state of equality when all you can say is: "Well, at least these half-bodied-women aren't being pissed on; they're just being reduced to having no purpose but penis assessment!"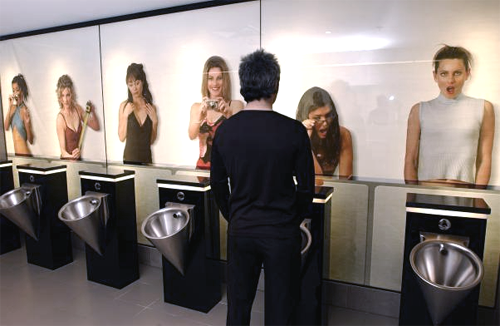 Go Equality!
You can view a report on the restroom
here
, which, to great amusement, contrasts the man's restroom with the women's, and quotes hotel manager Mark Wilkinson saying, "Certainly it wasn't our intention to offend anyone."
Of course not. It never is.
What I wouldn't give, btw, for a gay dude to complain to the manager that this bathroom is offensively heteronormative and demand disembodied men to compliment
his penis
immediately, just to see what the reaction would be.
[Part fourteen in an ongoing series: Parts
One
,
Two
,
Three
,
Four
,
Five
,
Six
,
Seven
,
Eight
,
Nine
,
Ten
,
Eleven
,
Twelve
,
Thirteen
.]