[Part Thirteen in an ongoing series: Parts
One
,
Two
,
Three
,
Four
,
Five
,
Six
,
Seven
,
Eight
,
Nine
,
Ten
,
Eleven
,
Twelve
.]
Say hello to "hilarious" bottle opener,
Moaner Lisa
—who not only uses her ladybits to open your beer, but has an orgasm while doing it! Now
that's
a girl who's happy to serve her man.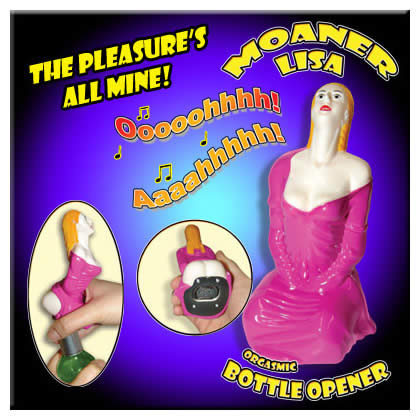 Product Description: "Simply touch the metal bottle opener (i'll let you use your imagination to locate it) with the bottle cap to hear her moans and groans of orgasmic delight! The pleasure is obviously all hers!!"
But you haven't even heard the best part yet…
To save yourself time when purchasing this product for the discerning feminist gentleman in your life, you can get Moaner Lisa GIFT-WRAPPED!




Spectacular!


Maybe you'd like to add a pair of the Naughty Hands and Naughty Feet Towels to the order, so he can impress the other guys "at the gym after you have showered." But warn him to be careful—because the images on these towels suggesting you're getting blown or fucked are "so realistic you better warn she who must be obeyed that its only a picture!" Ho ho!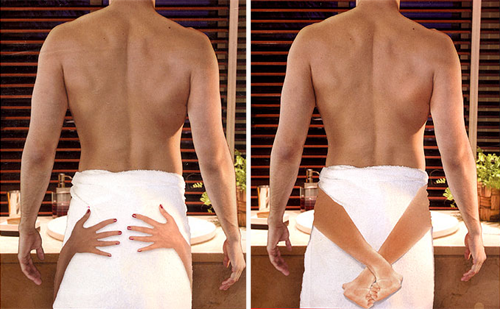 The hat tip for these goes to Coturnix, although he originally sent me the link to the Orgasmo Clock ("Wake upto an orgasm everyday. This cool looking black alarm clock looks great and sounds even better. Set the alarm and wake upto an orgasm!!!!"), which—frighteningly—turned out not to be the most objectionable item at the site (which isn't getting a link).

In typical fashion, it has a section "For Him" and "For Her," the latter of which does indeed include some penis novelties, although—also in typical fashion, and as I've explained before—they suggest only an illusion of equality, not a real equality, as they are typically designed to be used by women in a manner that recreates sex acts culturally regarded as submissive, e.g. fellatio. In fact, it's quite amazing how many of the gifts "For Her" serve the same purpose as the gifts "For Him," that is, turning Her into His sex object.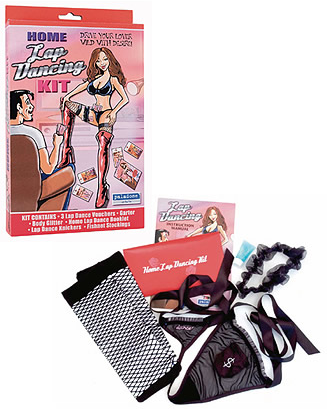 The Home Lap Dancing Kit: Just what every girl wants!