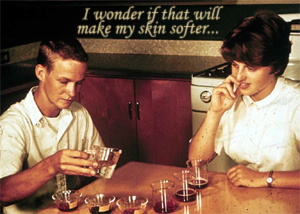 And what's your science project, Sally?Well, first I put this colored liquid on my fingernails and let it harden, and then I put this, like, totally sciencey elixir on it, and a supercool chemical reaction happens, and then—zow!—my fingernails are clear again.So…your science project is nail polish remover?Uh-huh. I learned all about it with my Discovery Channel Store Nail Art Kit for girls!
------------------------
Almost exactly one year ago to the day, I
wrote about
the Discovery Channel Store's curious gender segregation—and, this morning, I got an email from Shaker Mariah complaining of the same thing. In other words, another year passes, and it's still Same Shit, Different Day.
Last year:
Compare the first five items offered for boys:

~ Discovery Whodunit? Forensics Lab
~ Discovery Fingerprint Lab
~ Discovery Speed Detector
~ Radio Control Equalizer Stunt Car
~ Discovery Remote Control Chromashift Roboreptile

…to the first five items offered for girls:

~ Discovery Ultimate Pottery Wheel
~ Discovery Knit Kit
~ Discovery Deluxe Nail Salon
~ It's My Life Scrapbook Kit
~ Discovery Friendship Bracelets
This year:

The first five items offered for boys ages 8-12 are:

~ Cube Word Series 2 Set ("Create your very own interactive world")
~ Discovery ATM Machine ("This at-home ATM is an excellent way to learn about saving money.")
~ Discovery Radio Controlled Arthropods
~ Virtual Distance Football
~ Discovery Star Theater

The first five items offered for girls ages 8-12 are:

~ Rainbow In My Room
~ Discovery Sew Fun Sewing Machine
~ Discovery Pink Slide and Text Messengers ("Chat with your friends wirelessly and transmit text messages up to 15' away.")
~ Discovery Diamond Dust Microscope
~ Discovery Fashion Design Studio

What a "Fashion Design Studio" has to do with science is something I cannot explain to you.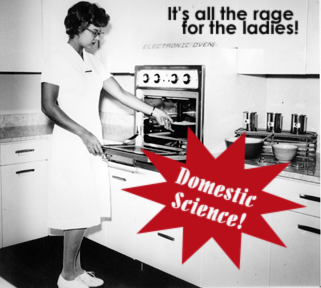 To give you an idea of just how profound the disparity is, let's compare the "girls' microscope" to the "boys' microscope."



Girls: Discovery Diamond Dust Microscope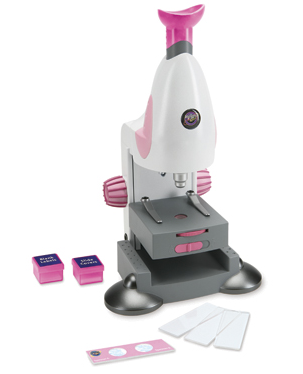 Boys: Discovery Macro Microscope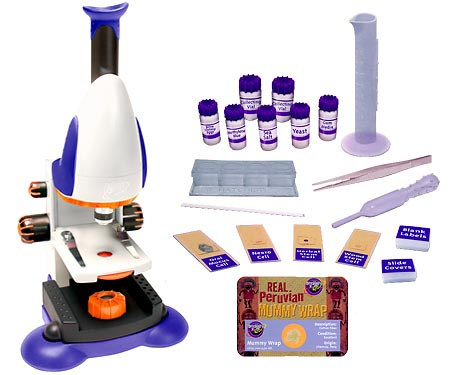 Aside from the fact that the name of the girls' microscope suggests that girls will only want to look at jewels and fairy dust, and the fact that it's pink, could it come with comparatively less shit? The Discovery Diamond Dust Microscope comes with, according to the product description, a "real diamond dust and salt crystal comparative slide" and "3 blank slides, cover and labels." The Discovery Macro Microscope, on the other hand, comes with:

~ Five vials of remarkable specimens to examine
~ Five prepared slides: two insect cross sections, two plant cross-sections and one slide with a real 900-year old, Peruvian mummy wrap!
~ Tweezers
~ Eye-dropper
~ Measuring beaker
~ Spoon
~ Blank slides for collecting your own specimens
~ Experiment booklet

Interestingly, the Discovery Macro Microscope is made available in the girls' section, too—but the Discovery Diamond Dust Microscope is not made available in the boys' section.

And though the girls' section is three pages shorter than the boys', there's still room for not just one, not just two, but three jewelry-maker kits!



Klutz ® Shrink Art Jewelry Kit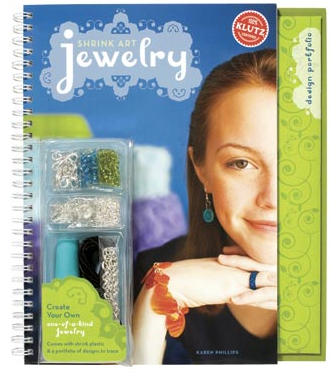 Discovery Jewelry Design Kit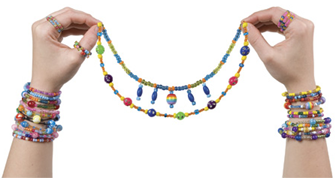 Discovery Optical Art Jewelry Kit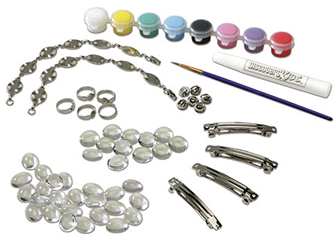 As I said last year, it's those items that don't make the crossover between the girls' and boys' sections at all which are actually most telling about the disparity. The separation might not seem to make much sense—until, that is, you consider how patently absurd it would be to offer a toy nail salon as an "educational toy" in a non-gendered context.

Only viewed through the prism of sex-segregation does all of the other completely unrelated-to-science crap being marketed to the girls—the heart-shaped Discovery Memory Keeper Digital Photo Pendant, the Discovery Headband Creations Kit, the Klutz ® Paper Fashions Kit, the Klutz ® Knitting Kit—seem passably "educational" to the uncritical eye. As expected, the stuff exclusive to the boys' section—even the non-science stuff, especially the active toys, like scooters—are things that shouldn't be considered sex-specific, but are, simply to offset the surfeit of pink rubbish being hawked to girls under the pretense of science.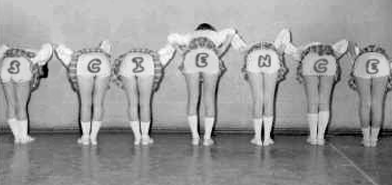 The girls of Central High show off their love of science.