Are the
Jingle Jugs
, in which disembodied female breasts are mounted as though they were a trophy of a hunt in which the imaginary women to whom they belonged was stalked, killed, and dismembered, more or less objectionable than
this
, via
Jessica
?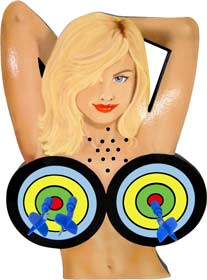 Throwing darts has always been a great way to spend a beer or a vodka on the rocks. Now fellow bar patrons can get their rocks in a new way with this sexy darts game.

Hit one of the bullseyes and hear her say "Young Girl, Bullseyes! Wonderful!"
I'm going to have to call it a tie, I think.
More of the motherfucking same in posts past
here
,
here
,
here
, and
here
.