For the discriminating breast aficionado, the world has been a grim and hostile place ever since women's bodies stopped being objectified and feminism was rendered unnecessary. What with men spontaneously abandoning strip clubs and porn during the Great Egalitarian Awakening of 2006, there hasn't been a naked, non-feeding breast seen in public since Madeleine Albright's wardrobe malfunction in Joe Francis' Girls Gone Dignified series.
But I've managed to locate a couple of rare items, remnants of that glorious lost culture in which disembodied breasts ran free and men still peed standing up. They're hard to find these days, of course. But the regrettable loss of novelty boob kitsch was inevitable with sexism's end.
[Below images possibly NSFW.
UPDATE:
Many of the images have been removed by Photobucket, which is fairly ironic, given that they were images of fake breasts fashioned into various novelty items that are supposed to be "fun" and not offensive.
UPDATE 2:
Lauredhel
has kindly provided image hosting so that the images are back up. Thank you muchly, L! Amusingly, this post is being linked by guys excited by "all the boobs!" only for them to get complaining comments from their readers about the "screed" at the end of it which ruins all the fun.]
We'll start in Kitchen and Dining, where no home is complete without a Boob Apron. Because men now take on 50% of the household chores in most homes, it's a zany reminder of the days gone by in which women still did most of the cooking and cleaning, even if they also worked outside the home.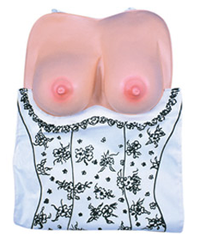 And what better way to celebrate women than by cooking meals and treats in the shape of breasts? From eggs…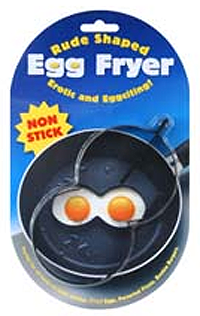 …to pasta…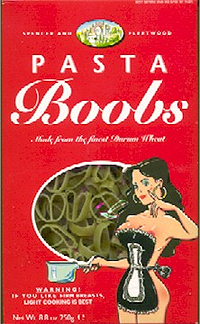 …to cakes and cupcakes…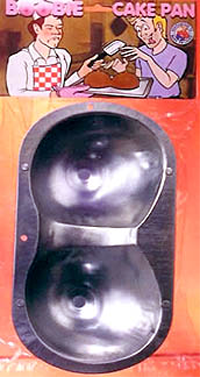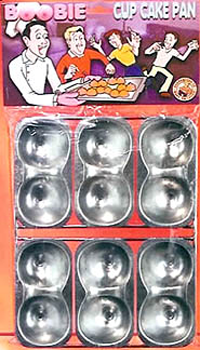 …nothing says "Hear me roar!" like boob-food! And don't forget the proper seasoning!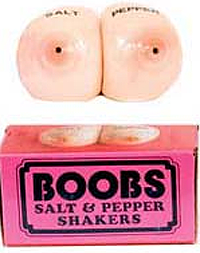 The only thing that could make boob-food taste even better is eating it by the soft glow of a feminist boob lamp…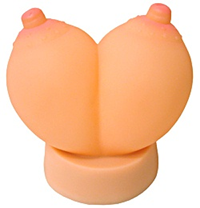 …and washing it down with some nice warm cocoa from a woman-honoring boob mug.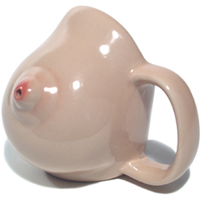 After a romantic dinner like that, there's no place better to go than the Bedroom, where the amatory tone can be further set by lounging on some boob pillows in realistic pleather…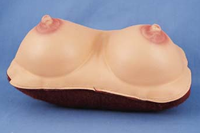 …or cuddly plush…



…while having a passionate conversation by boob-candlelight.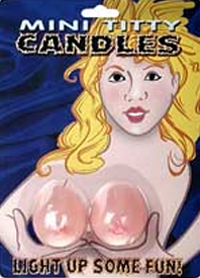 Ooh. Ahh. Fiery boobs. Yeah, baby.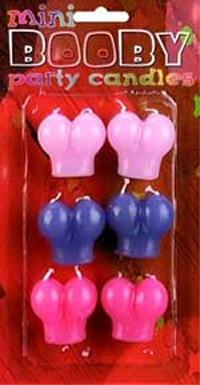 That's some hot stuff, hot mama.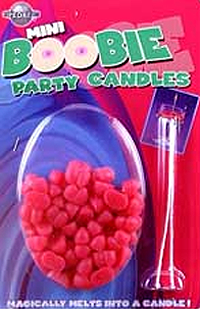 Sizzling!

From there, we'll move on to the Home Office, which can be boobified like almost no other room in the house. The desk of the discriminating breast aficionado will be totally titacular in no time after he kits out his computer with a boob mouse, in breast-only and disembodied torso varities.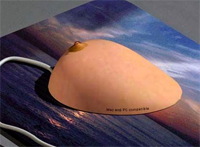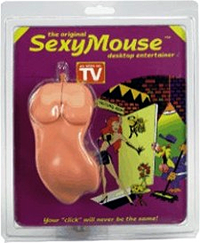 Don't risk carpal tunnel—every gentleman should make a boob wrist rest a part of his daily computing.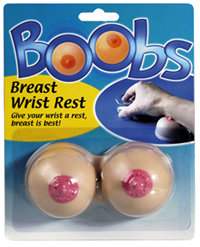 In case he needs to jot a quick note on his boob post-it notes…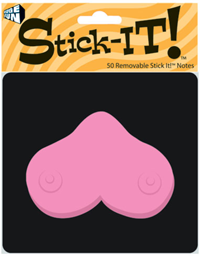 …or leave a birthday or anniversary reminder for himself in his boob cardholder…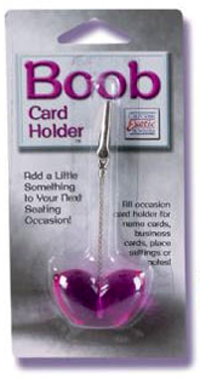 …he should make sure to keep a boob pen within his manly reach.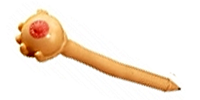 Or, if he's the kind of guy who prefers a pencil, he can dress it up with a classy boob pencil topper!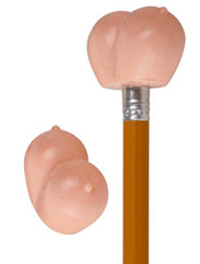 A boob pencil sharpener will also come in handy, and completes the office of any pro-feminist guy with real panache!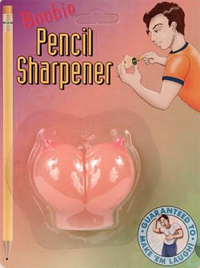 All work and no play makes for a dull boy, so next we'll move on to the Rec Room, where honoring women with boobalicious baubles really gets fun!

Here's the place for the discriminating breast aficionado to kick back in front of his entertainment center in his boob beanbag chair…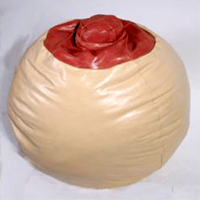 …with his hand wrapped around a boob remote control while he channel surfs looking for great feminist documentaries like Showgirls…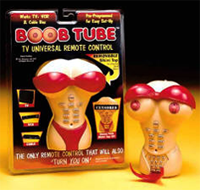 …or listens on his boob radio to the dulcet tones of woman-celebrating artists exhorting him to slap his bitch up or remind her that every woman should try to be whatever her man wants her to be.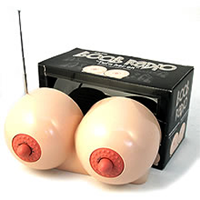 Then again, perhaps he just wants to relax and appreciate the décor of his family room…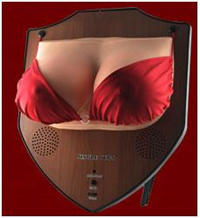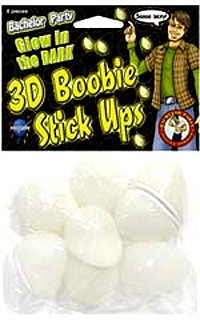 …while enjoying a soda cooled with boob cubes…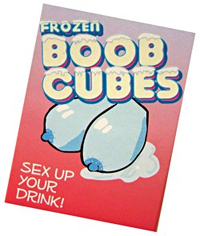 …or a cold beer, through a beer boob.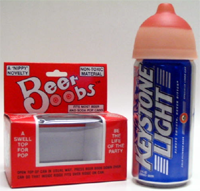 For the lord of the manor who prefers a mixed drink, there are classy boob stirrers for every vodka- or gin-drenched occasion.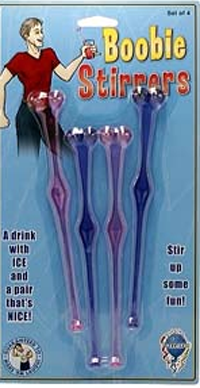 And, of course, there are a variety of shotglasses from which to choose for the Scotch-drinking man, including disembodied torso, single boob, and light-up!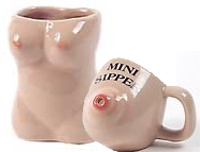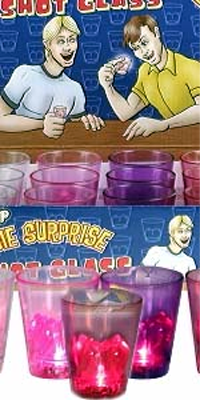 The guy who prefers to kill his brain cells with a poison of the herbal variety should not feel left out, because there's something for him, too. The discriminating breast aficionado cum pothead can sink into that boob beanbag chair with his boob bong…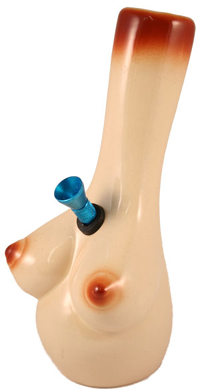 …and then satisfy the inevitable munchies with any one of a number of delightfully feminist sweets!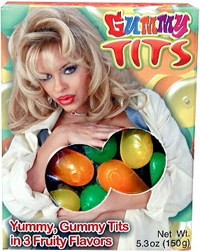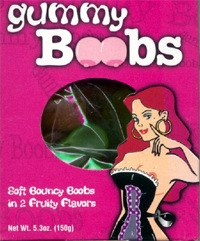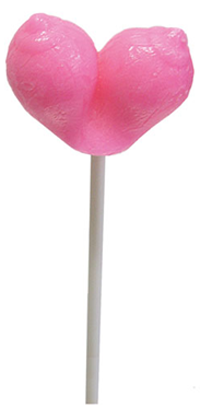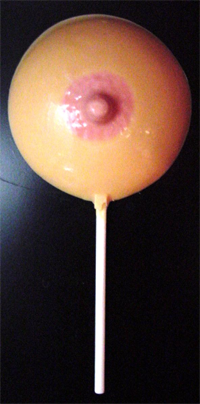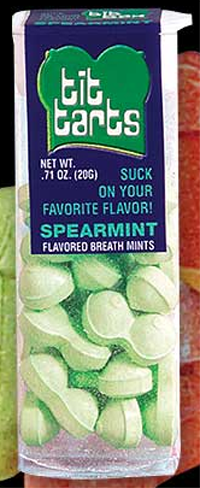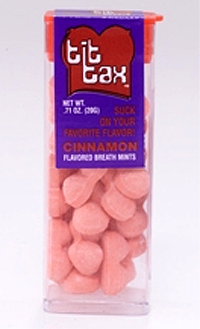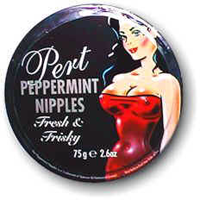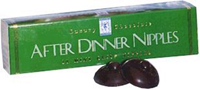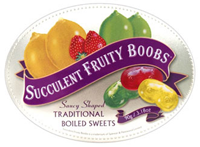 Deeeeeelicious!

In the age of the egalitarian metrosexual, a man likes to have the opportunity to celebrate womanhood while he spends long hours grooming himself, creating a demand for a boobed-out Bathroom. No lady-loving lad's shower is complete without a boob shower dispenser, boob soap-on-a-rope, or boob soap cakes.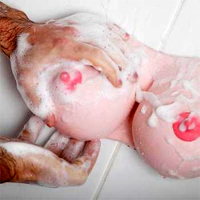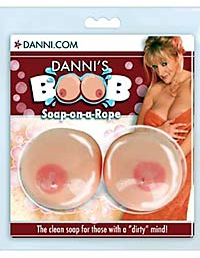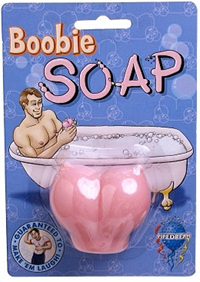 There's no point getting all gussied up with a feminist washing if a gent's only going to wear some non-boobtastic wardrobe, so his Closet should be well-stocked, too. Whether it's boob slippers, boobmuffs, a boob hat, boob-face masks, or a giant boob costume, nothing says "I regard women as my equal" like strapping disembodied boobs to one's person whenever possible.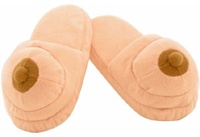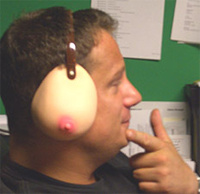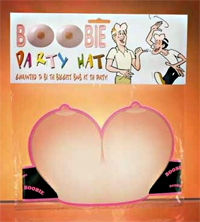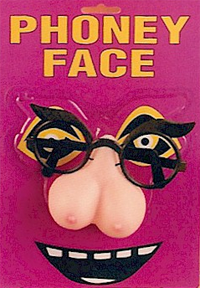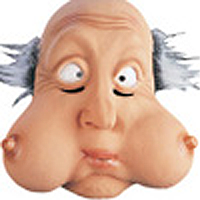 The teaching of such respectfulness should start early, so a good addition to any Kid's Room is this adorable plush disembodied and anthropomorphized boob!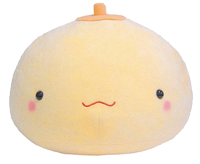 And if, like the great feminist revolutionary Aaron Spelling, the gentleman's ginormous man-mansion has its own Giftwrapping Room, it should be kept stocked at all times with boob wrapping paper, sure to delight any women's-libber lady friends.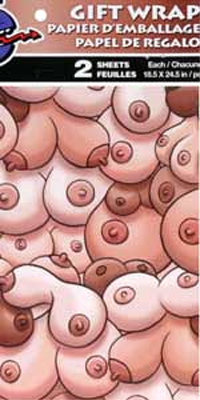 While the boob aesthetic is important for the quality of life of the discriminating breast aficionado, he should not overlook taking care of his body, mind, and spirit with the boob products available for his all-around wellness. If the gentleman feels a cold or flu coming on, he should take to his bed immediately for rest with a boob hot water bottle…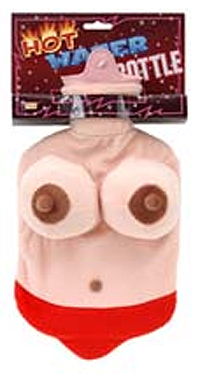 …and possibly even a "girlfriend pillow," the disembodied torso of which will warm both body and soul.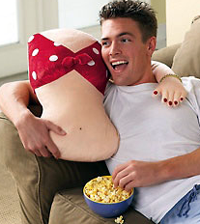 (Please note that the disembodied lap "girlfriend pillow" is not recommended for the discriminating breast aficionado.)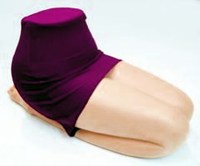 In times of stress, a gent should reach for the reliable and deeply pro-feminist "stress chest"…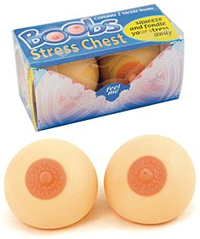 …here helpfully demonstrated for the easily perplexed: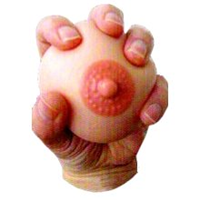 If squeezing a disembodied boob fails to relieve the gentleman's angst, he should take solace with any one of a vast variety of models of boob pacifiers, here seen in gummy and light-up options.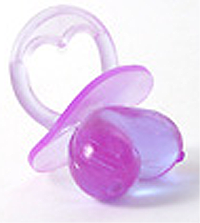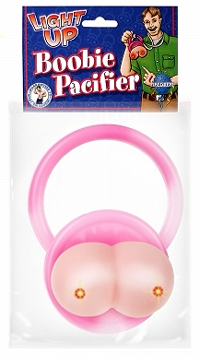 Laughter, of course, ever remains the best medicine, so a man can't go wrong salving the wounds left by the erosion of undeserved privilege by laughing at fantastic boob toys like clockwork boobs…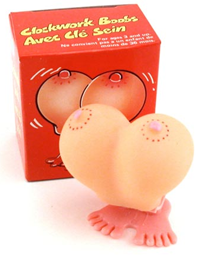 …or a boob watergun, which should be a staple of any egalitarian household and is, as the packaging notes, a gag you can really MILK!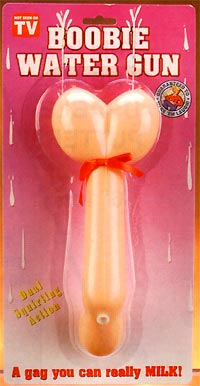 And hours of fun can be had blowing a boob whistle and barking demands at the missus, in an ironic throwback reference to the olden days when women were oppressed and objectified.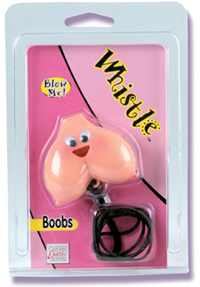 Perhaps she'd even be tickled if he gave her a "Boobie Prize"!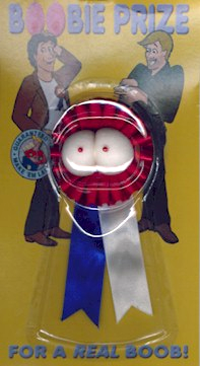 As we all know, however, no toy is more important to a man than his car. So, when he grabs his boob keychain…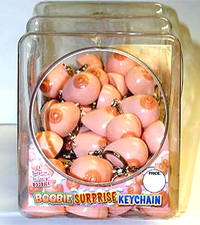 …and heads out for the day, the discriminating breast aficianado should have a vehicle that minimizes the jarring transition from his inner boob sanctum to the rest of the cold, boob-free world, wholly devoid of cleavage, nipples, and objectified, disembodied breasts. His rearview mirror is thusly incomplete without a set of "Boobie Fuzzy Dice."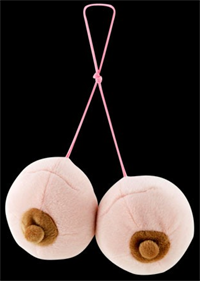 And naturally his car should sport its own pair of boobalicious headlights, which convey to the world that he has been illuminated with appreciation for women and enlightened by feminism.




Beep beep!


Have a wonderful day, Mr. Discriminating Breast Aficionado! You've earned it, friend.



---------------------


In all seriousness, this is one of those "homework" posts, which will serve as a linkable rejoinder to a couple of different continually contentious issues:

1. Sexism is "pretty much over." Clearly, it isn't. The objectification and exploitation of women's bodies is one of the most basic expressions of misogyny, and while some readers may correctly note that one can increasingly find "penis popsicles" and the like, it is a false equivalence. In truth, the amplification of disembodied penis novelties serves merely to suggest a perniciously inaccurate illusion of equality, as the same acts that demean a subjugated class effectively celebrate the privileged class. When a woman sucks on a disembodied penis popsicle, she is recreating a sex act still culturally regarded, individual experiences notwithstanding, as submissive, which is why "Suck my dick" is said with contempt and why "cocksucker" is understood to be an insult.

But one has neither to understand nor accept the argument that flourishing penis novelties are hardly evidence of parity to nonetheless recognize that objectifying the body parts of either sex is exploitative, and adding disembodied male bits to the long tradition of consumable disembodied female bits is hardly an improvement. It's a step forward only in a race to the bottom, and there is little to be gained by treating service to the lowest common denominator as a favorable equalizer.

(Tangentially: Note the color of all the breasts shown above. These items, always so perfectly pink (unless they are not body-colored at all), reinforce not only sex biases, but race biases as well.)

2. It's just a joke. I can, quite genuinely, understand why people look at one—or maybe even two, or three—of these items and dismiss them as "just a joke." If I wrote a post about just a frying pan that turns eggs into boobs, I'm certain even some truly feminist women and men would defend it as just a bit of harmless kitsch. It's just a joke; what's the big deal? I get that; I really do.

Which is why I went for critical mass.

It isn't just one "boob novelty" (or, as they tend to be called, "boobie novelty"). It's sixty-five. If I hadn't totally run out of steam, I probably could have included sixty-five more. And these things aren't relegated to adult stores and websites—ads for the Jingle Jugs are being run on radio and TV during ballgames, and many of these items can be found in regular old party stores and gag shops like Spencer's Gifts, which has franchises in every bloody mall in America. The "Stress Chest," "Beer Boob," and "Boobie Fuzzy Dice" are all sold at Spencer's, right alongside Harry Potter action figures.

The ether is permeated with boob novelties (which is to say nothing of vagina novelties, women's ass novelties, the women-as-toilets products, etc.), and while each on its own may not be such a terrible thing, the combined effect is having turned disembodied women's body parts into just so much cultural detritus to be consumed or ignored. No rational person can argue that makes no difference to how women are viewed, as a group and as individuals, by men and by themselves. And that isn't a laughing matter.

On that note, one of the most common themes among the emails I get is gratitude for expressing frustration or contempt or anger at something of which, women have been told in explicit or implicit ways, our jovial and uncomplaining acquiesce is expected. Thank you for saying it's not funny. That something has always bothered me. It's an expression of relief that someone has said publicly what they've felt privately—and maybe never said to anyone for fear of reprisal, for fear of being told they are humorless, hypersensitive, over-reactionary, boring.

For fear of hearing in those words, "Oh, you're such a girl," and feeling that thing, that awful thing, in your gut, the shame of being a girl—and then the twisting horror at the realization that you've let self-loathing grip you.

It's a terribly effective silencing strategy, which is why the conveyance of patriarchal norms is so often closely associated with humor. Anyone who dares complain is just No Fun—hence, we find ourselves mired in a culture in which women who don't laugh at seeing parts of their body routinely used as demeaning gags, and the men who are disgusted by such objectification of people they're meant to love and respect, are the ones considered weird.

It can be really daunting to go up against all that, especially in one's everyday life, on one's own, just one woman against someone(s) equipped with such an effective institutionalized mechanism for shaming and silencing.

It's so very girly to get all worked up about novelty boobs. Oh, you're such a girl.

You're fucking right I'm a girl.

I'm a girl with no sense of humor about anti-girl things—go figure.

I'm a girl with absolutely no interest in participating in my own subjugation, thank you very much.

And I'm a girl who really doesn't give the tiniest wee drip of dogwank if the discriminating breast aficionados of the world don't like it, because their antipathy is substantiation of their privileged ignorance.

I'm a girl's girl. And proudly so.