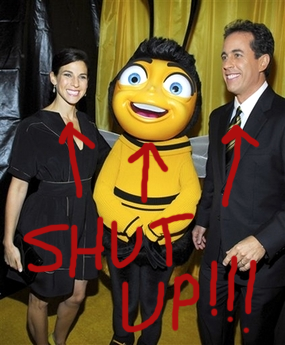 I swear to the fates, if I have to hear one more goddamned thing about Jerry Seinfeld's fucking idiotic "Bee Movie," my office is going to become a vomitorium!!!
Between the
rape jokes
and the incessantly irritating promo spots through which I have to suffer just to watch
The Office
—including
a sickeningly homophobic and transphobic one
with Matthew Broderick (why, Matthew,
why
?!)—I've had as much as I can take!
STFU about your ass movie already!
And that goes double for Mrs. Seinfeld's plagiarized cookbook! Bleh!