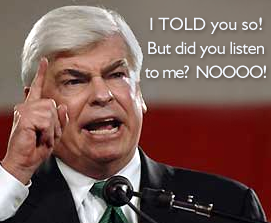 Dodd Speaks Out on Unilateral Sanctions Against Iran
:
"I recognize the obvious threat a nuclear Iran poses to the region and beyond, and that we must stop Iran's continued support for international terrorism. Unfortunately, the action taken by the Administration today comes in the context of escalating rhetoric and drumbeat to military action against Iran. I am deeply concerned that once again the President is opting for military action as a first resort.

The glaring omission of any new diplomatic measures by the President today is the reason I voted, and urged my colleagues to vote, against the Kyl -Lieberman resolution on September 26. The aggressive actions taken today by the Administration absent any corresponding diplomatic action is exactly what we all should have known was coming when we considered our vote on the Kyl-Lieberman Amendment, and smacks, frankly, of a dangerous step toward armed confrontation with Iran.
Clinton, of course,
voted for it
, and,
in all-too-typical fashion
, Obama didn't vote at all.
UPDATE: I've got a piece on Dodd at
Comment is Free
.