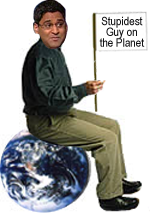 "As the Republican Party has gotten more socially conservative, its voter base has become lower in income."
—Stupidest Guy on the Planet Ramesh Ponnuru revealing in
an op-ed
for the
New York Times
that the GOP Voter Base is
as bad at Econ 101
as their beloved dictator. Via
Jill
, who recommends said base "do the math."