Taking some time off from
dying of cholera
, being
shut out of Syria
as they attempt to flee, dying in
car bombings
and watching their
elected leadership crumble
, some Iraqis were polled on their opinion of the U.S. occupation of their nation.
Shockingly, after four-plus years, they just aren't into it that much.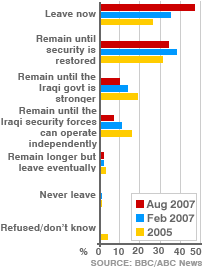 "US surge has failed - Iraqi poll"

About 70% of Iraqis believe security has deteriorated in the area covered by the US military "surge" of the past six months, an opinion poll suggests.

The survey for the BBC, ABC News and NHK of more than 2,000 people across Iraq also suggests that nearly 60% see attacks on US-led forces as justified.

This rises to 93% among Sunni Muslims compared with 50% for Shia.

He and US Ambassador to Iraq Ryan Crocker are due to testify about the effects of the surge and the current situation in Iraq.

The poll suggests that the overall mood in Iraq is as negative as it has been since the US-led invasion in 2003, says BBC world affairs correspondent Nick Childs.


While more than 90 percent of Sunni Muslims think attacks on U.S.-led forces is fine, remember one important thing - they're our allies now. So we got that going for us.

Aside from that, serious experts in the field of international diplomacy have made no mention of the Iraqis opinions on the U.S. occupation of Iraq. After all, Iraqis can't even keep the electricity running, so why should their opinion count? Plus, there's an occupation of Iran to plan.

So, while it's a sign of democracy that Iraqis are allowed to give their opinion, it's good that they are learning about the other part of democracy - that the leaders have learned to ignore the will of the people.

--WKW