God help me, I watched the entire Emmys broadcast last night. I was only going to watch a little bit, and then stick on a movie, but it was
such
a trainwreck that I couldn't tear my eyes away from it.
First of all, the whole "theater-in-the-round" concept was just insane, because the cameras were all one on side, so half the audience just got backs all night, which defeats the entire "in-the-round" concept. When James Spader collected his Emmy, he noted that he's been to thousands of concerts but "these are the worst seats I've ever had."
Then there were the strange, silent cutaways to the ceiling whenever someone said a naughty word, like
Sally Field during her acceptance speech
, because America's head might explode if they heard the word "goddamn." Particularly ironic, given that the entire phrase was "goddamn wars," so why not censor it since we're currently censoring coverage of the two goddamn wars we're fighting, right?
Then there was the usual sadness—Brad Garrett making lame jokes about Joely Fisher's boobs; Ryan Seacrest (who really
is
a good presenter) slowly trying to inch his way out of the closet—and some unusual sadness: a musical number by the cast of the Broadway musical
The Jersey Boys
singing a medley of Frankie Valli and the Four Seasons tunes to a backdrop of
Sopranos
footage. I don't know who the fuck conceived this mad idea, but they obviously didn't stop to consider how unbelievably
disturbing
it would be to juxtapose lines like "Can't take my eyes off of you / I love you, baby!" with images of a man chasing down and killing a woman in the woods, or "Who loves you, pretty baby?" with images of Tony beating up Carmella. Is that supposed to be
ironic
? WTF?
Oh!—and I almost forgot about the montage of "topical one-liners," which pulled together a series of mostly unfunny political quips (including probably every joke Jon Stewart has made about the Democrats in the last year) then segued immediately and without explanation into excerpts of the same folks (Stewart, Leno, Letterman, etc.) honoring the recently passed Tom Snyder. Zuh? It made no sense. There was literally not a break in the footage; apparently solemn comments about his death are considered "topical one-liners" by Fox producers.

In good news, the brilliant Terry O'Quinn won for Best Supporting Actor in a Drama for his role as John Locke in Lost, which was cool. And I loved his awesome fuckoff pink shirt.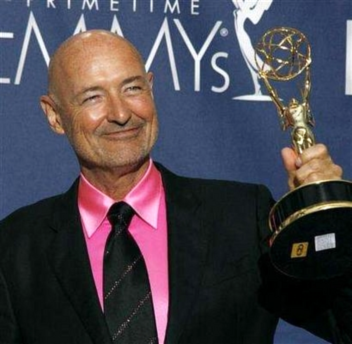 Terry O'Win


And in other good news, Al Gore can now add Emmy-winner to his résumé: CurrentTV won a special Emmy for Creative Achievement in Interactive Television:




Meanwhile, Bush still can't spell Emmy.


Finally, the best moment of the night was when Jon Stewart and Stephen Colbert presented the Emmy for Best Actor in a Comedy Series, and it went to Ricky Gervais for Extras. Gervais wasn't there, so Stewart announced: "Ricky Gervais isn't here, so we're giving it to our friend Steve Carell!" Carell, who was nominated for The Office (but obviously lost to Gervais) raced onto the stage and a fabulous celebration ensued:



The Holy Trinity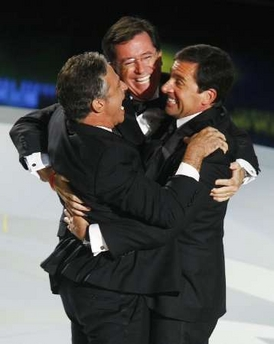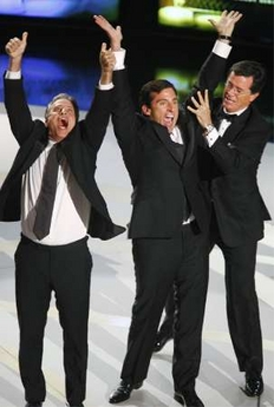 Hallelujah and amen.