Like most of you, when I take a drink of water, I'm a little disconcerted that my water isn't adding more to the experience. It just tends to sit there in its submissive wateriness, doing little more than just basking in its own wetness. Personally, I prefer water that's actively making an effort to enhance my water-drinking experience.
Luckily for us all, now you can get
"Water with Intention."
Yes, now on the market, proving once again that a fool and his money were likely brought together by fluke happenstance anyway, is H2Om (pronounced H2 - Ohhm, you know, like the chant).
According to the makers, H2Om has taken water to the next level of waterness:
H2Om water with intention has revolutionized the bottled water industry by creating the world's first vibrationally charged, interactive bottled water.

The people who drink H2Om are individuals who care about health, love, and being positive. People who believe that intention is everything. People who believe in the power of positive thinking. People that understand that the universe is made up of vibrations, and that even the vibrations of a single thought can effect our world.
Does that sound like you? Are you the type of person who read
"The Secret"
and totally lost your mind at its new age brilliance? Well than H2Om is for you. But don't just take my word for it. A literal
bevy of celebrities
, including
Arianna Huffington
, are sucking down H2Om like there's no Mahāyāna.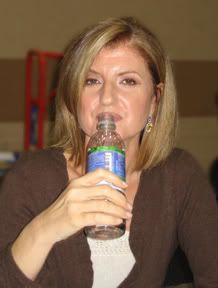 When you drink ordinary water, do you get the overwhelming sensation of gratitude? Aside from when you're literally dying of thirst? How about prosperity? Well, H2Om comes in seven fantastic infusions: Love, perfect health, prosperity, gratitude, will power, peace and joy.
Plus, as an added bonus, once they bottle the water, they play
restorative compositions
of music, frequencies, and spoken word
to the water
. H2Om will not just hydrate you in happiness, it will
super
hydrate you in happiness.
So this weekend, run out and rent
"What The (Bleep) Do We Know!?"
, buy a case of H2Om and get your zazen on.
Or just hurl your money
straight down the toilet
, totally bypassing the middle man. Either way, it will be a truly enlightening experience.
--WKW