Walter Reed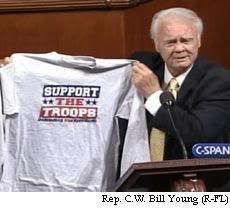 Congressional Quarterly
reports
that "Senior Republicans," including Representatives C.W. Bill Young (R-FL), the former chairman of the House Appropriations Defense Subcommittee, and Thomas M. Davis III (R-VA), the former chairman of the House Government Reform Committee, "knew about problems at Walter Reed Army Medical Center while their party controlled Congress insist they did all they could to prod the Pentagon to fix them." Young claims that he "stopped short of going public with the hospital's problems to avoid embarrassing the Army while it was fighting wars in Iraq and Afghanistan."
Young "described repeatedly confronting the hospital's then commander, Gen. Kevin C. Kiley" and getting in his face "on a regular basis," but, as Think Progress
noted last week
, Young was still praising Kiley as "committed to providing our war heroes with the very, very best medical care that is possible" as recently as January 19th of this year.
I just love it. Young claims he "did not go public with these concerns, because we did not want to undermine the confidence of the patients and their families and give the Army a black eye while fighting a war," which is longhand for "Support the Troops," the old canard that's been the GOP's sword
and
shield for years, but in this case, his silence and inaction created a quite
literal
failure to support
actual
troops. And yet he still wants to use a variation on Support the Troops as his defense. It's truly mind-boggling.
Attorneygate
U.S. News & World Report
's Michael Barone A very clever hacker at Barone's blog
doesn't pull any punches
: "The emerging scandal surrounding the dismissals of eight former U.S. attorneys should signify to American voters the depth, breadth, and permeation of corruption in the Bush administration. When a U.S. senator (to wit, Pete Domenici, a New Mexico Republican) feels free to call a prosecutor at home and hang up on him for resisting political pressure in the course of executing his prosecutorial duties, the line between politics and law enforcement has been so thoroughly violated that it no longer exists. … Domenici would not have made that call had either a Democrat or a law-abiding Republican been in the White House. He would not have had the temerity to throw his weight around to such an outrageous extent. What's going on in Washington is not sufficiently removed from the routine doings of a tawdry Third World dictatorship to give any American comfort."
Ouch.
Meanwhile, in
this article
in the
Las Vegas Review-Journal
(
via
), Senator John Ensign (R-NV) claims he was lied to about "why the Nevada chief federal prosecutor, Daniel Bogden, was removed from office." And, the Senate Majority Leader, Senator Harry Reid (D-NV) says "he understood the department planned to take advantage of a loophole and fill its new vacancy in Nevada without submitting its choice for customary Senate review and confirmation." That's the whole Patriot Act loophole I was
talking about the other day
.