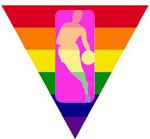 This week, former NBA player John Amaechi
came out
in advance of his autobiography,
Man in the Middle
, which is to be released on February 14. (Makes a great Valentine's Day gift!) There have been
some
less-than-enlightened reactions from a couple of NBA players; Cleveland Cavaliers forward LeBron James called not being out a trust issue "and if you're gay and you're not admitting that you are, then you are not trustworthy," while Philadelphia Sixers forward Shavlik Randolph warned, "As long as you don't bring your gayness on me I'm fine." All right then.
Worst, perhaps, was Philly center Steven Hunter, who was quoted as saying: "For real? He's gay for real? Nowadays it's proven that people can live double lives. I watch a lot of TV, so I see a lot of sick perverted stuff about married men running around with gay guys and all types of foolishness." Yes, well,
watching
the
news
can be a dangerous proposition. Even still, Hunter tried to extend a very, very prejudiced olive branch: "As long as he don't make any advances toward me I'm fine with it. As long as he came to play basketball like a man and conducted himself like a good person, I'd be fine with it." That is, to my ears, a laughably horrible thing to say—and yet I'm not naïve enough to fail to recognize that it
also
signals a sea change when that's the worst statement emanating from the cosseted bastion of homophobia that has been the locker room of male professional sports. Progress doesn't happen everywhere at the same rate.
Shaq came out with one of the most unintentionally revealing observations on the topic, illustrating how the locker room is straddling its past and its future regarding gay players. Though it can still function to make a closeted player feel he must stay closeted, it can also be a source of support if he comes out, by
rallying teammates to his defense
. "If he was on my team," noted Shaq, "I guess I would have to protect him from the outsiders." That reminds me of nothing so much as a solider to whom I once spoke about attitudes regarding gays in the military, who said that all disagreements between soldiers diminish when facing the enemy. It's no coincidence that attitudes in the traditionally male-centric worlds of the military and professional basketball have found commonality in how their respective members respond to gay men in their midst—and that the attitudes seem to be changing at much the same rate.
To that end, there are a spectrum of responses, and on its other end there were
some
encouragingly strong supportive statements, too. The Orlando Magic's Grant Hill endorsed Amaechi's decision to go public, saying, "The fact that John has done this, maybe it will give others the comfort or confidence to come out as well, whether they are playing or retiring." NBA commissioner David Stern gave it a big wev. "We have a very diverse league. The question at the NBA is always 'Have you got game?' That's it, end of inquiry." And former NBA star Charles Barkley, never one to be shy about sharing his opinion,
said
: "It shouldn't be a big deal to anybody. I know I've played with gay players and against gay players and it just shouldn't surprise anybody or be any issue." Heh. I like the little dig that anyone who can't get on with it at this point is kind of, uh, behind the times. Barkley's a clever chap—and knows the value of some well-placed mockery when dealing with bigotry.
Amaechi's former coach, Doc Rivers, however, got
right to the heart of the matter
. "He's better than a good kid; he's a fantastic kid. John Amaechi, when I was coaching him, was a great kid. He did as much charity work as anybody in our city, and he's still doing it. That's what I wish we focused on. Unfortunately, we're talking about his sexual orientation, which I couldn't care a flying flip about." Right on, Coach Rivers.
But mostly—right on, John Amaechi. One day, being gay in the NBA won't be a story, and when that story isn't written, you'll be a big part of it.