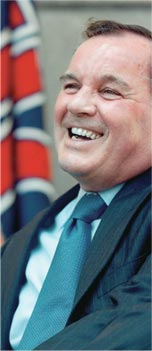 Chicago Mayor Richard Daley
cruised to victory
for the sixth time last night, garnering over 70% of the vote.
A jubilant Daley walked into a ballroom of the Chicago Hilton & Towers to the strains of "Takin' Care of Business" and, in a speech that lasted just a few minutes, claimed victory before excited supporters.
LOL—"Takin' Care of Business." That's
so
Daley.
Daley, 64, was first elected mayor in 1989. If he serves out his term, he will surpass his father's time in office on Dec. 26, 2010, when he hits 7,915 days as mayor.
Last night, as Mr. Shakes and I were watching the returns, we were just laughing about how crazy it is for anyone to run against Daley. The dude doesn't even have to campaign—we saw maybe
three
campaign ads for him, and they were all during the last week.
"Who's goona voote against Daley?!" said Mr. Shakes.
"I know, right?" I replied. "The guy's an institution. It would be like voting against the Sears Tower."
[Mannion once
posted
my favorite picture
ever
of Richard J. Daley, the aforementioned record-holding father of Richard M. Daley.]