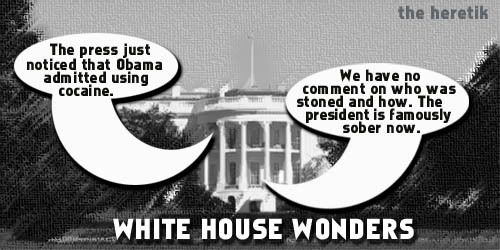 How much candor can we stand?
Obama admits pot and cocaine use and it's just
terrible
. He gave up all that some time in his twenties and
wrote about it honestly
. George
Bush
evaded all comment on his um history and didn't want anyone nosing around.
Man the boats, all hands on deck.
George Bush went through the same thing during his presidential campaigns, with his history of hard drinking and references to other abuses that never got confirmation. Despite the lunacy of some on the Left -- Martin Sheen once referred to Bush as a "white-knuckle drunk" without benefit of having ever met the man -- he has handled himself perfectly well in office.
That was then. And this is now.
Whether Bush has
handled himself perfectly well in office
depends upon which bowl of delusion you bathe in. Power is the ultimate intoxicant and some might say some stumbling has been seen on Pennsylvania Avenue. The story of the resident bumbler was a non story until it was briefly and recently news. Now it is old news. The righteous will point to the new golden boy who appeals to black and white, who somehow must be tarnished. Those who offer honesty simply must be fools. It's not the DC way. Consider the cowboy way or the cocaine cowboy way and what else besides brush might be cleared in Texas.
Those Swift Boats that got launched against John Kerry
had nothing to do with
possibly
covering up a cocaine conviction
possibly
expunged in the Bush's record. Talk of Bush going AWOL from the National Guard had nothing to do with him being ordered some place else. And people somehow forget George Bush got his driver's license revoked for two years for his DUI way back when,
an unheard of long time for a first offense
. Someone else may make a reference to Sherlock Holmes and ask why the dog barks. Or why nobody barks.
The pundits will come not to bark about Obama or to praise him soon, but to chew on him.
Chew on this
. Spit it out if it makes you gag.
"I believe what the country is looking for is someone who is open, honest and candid about themselves rather than someone who seems endlessly driven by polls or focus groups," said Robert Gibbs, Obama's spokesman. Gibbs said yesterday that Obama was not available for an interview.

Presidential aspirants tend to write more sanitized books for use as campaign tools.
That strange flavor in the mouth is not some sweetened candy.
It's candor, the new flavor that may be the flavor of the month. Obama can be ripped more for his pander than his candor. Some will get around to that soon enough.