I kindly request that if you're going to be a
ghoulish warmonger
, then do me and the rest of America the favor of looking the part. When announcing you're sending 21,500 more men and women to risk their lives for the monstrous folly of prolonging the pretense that the war in Iraq is one we can yet win, and is not a civil war from which we must extricate ourselves as soon as possible in spite of our responsibility for unleashing it, the least you can bloody do is
not look scared
.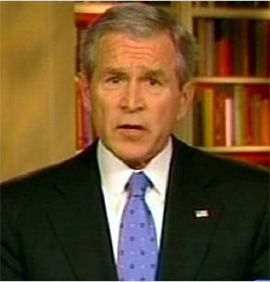 That, sir, is not an expression suited to the most powerful man in the free world. It is the countenance of a man who's forgotten to purchase on his way home the toilet paper his wife requested, captured at the precise moment he tries to decide whether to just say he forgot or spin some fantastic yarn about the store being completely out of bogroll.
I trust you'll agree, sir, such a posture is a decidedly ill-suited demeanor for the Commander in Chief in a time of war, particularly as he casts more lives to the ruthless hands of fate in the bowels of a cataclysm. In future, I suggest something a little grittier, a little more appropriately macabre—something that evokes in all whose eyes fall upon you the undeniable stench of doomed fortunes conjured by an unscathed knave.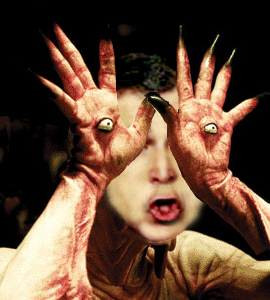 Just one possibility. Honestly, Mr. President, I don't particularly care what look you ultimately choose, just so long as it resembles a great deal less a deer caught in headlights than your choice did this evening. You see, when you could end this whole, horrible thing with the stroke of a pen, you don't
get
to be scared. That's for the men and women risking their lives in Iraq. That's for the Iraqis. That's for all the rest of us, who have to live in this immeasurably more dangerous world you've created, who won't have the benefit of a secret service detail for the rest of our natural lives. Frightened is just the last thing you get to be when you hold all the cards, because you're the only one who can't lose.
Best Regards,
Shakespeare's Sister