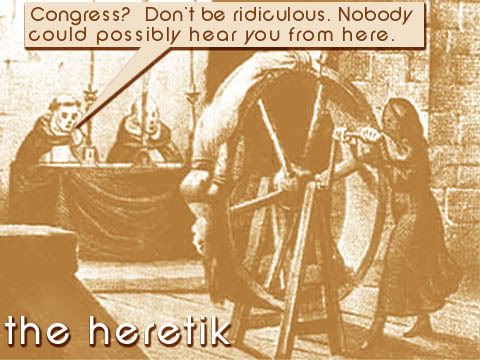 Does Guantanamo have too many or too few lawyers?
Who
are all these damn
lawyers
who
insist
that even the lowest of the low deserve this crazy thing called legal representation as they are tosse away for this crazy thing called
life
? Do the worst of the worst deserve the best representation? What does it
matter
? Is
Cully Simpson
just the first body in the human wave Bush will throw up in the war to keep everyone in their
place
? Will the Democrats work hard to overturn the Military Commissions Act or will they softly just let the Supreme Court deal with it?
Big wheels keep on turning?
Lost but not forgotten in all the disgust and despair over George Bush's prosecution of the War on Iraq, a fully owned subsidiary of The War on Terror Everything TM may be one other cost less openly considered. Yes, we have lost young lives and future treasure our children will be billed for as Bush continues to insist ripping the lid off Pandora's box was most wise. But in these days that seem more like narcoleptic nights, maybe more Americans are realizing the price we pay at home for the egomania abroad. Maybe our civil liberties mean more than we realize, not just for us, but those poor bastard labeled the
worst of the worst
who have
not been proven to be anything
. The wheel turns to crush these souls. Perhaps the tide of revulsion against Bush is greater and more broad than we all thought. The daylight of decency rises with such small hopes. Nurture them. Fight for what is right, not just for you and for me, but for all.