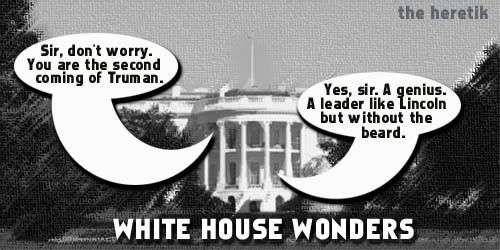 Ignore the voters at your peril. Stick with your gut.
Get stuck with the label
worst president ever?
At a time of national crisis, Pierce and Buchanan, who served in the eight years preceding the Civil War, and Johnson, who followed it, were simply not up to the job. Stubborn, narrow-minded, unwilling to listen to criticism or to consider alternatives to disastrous mistakes, they surrounded themselves with sycophants and shaped their policies to appeal to retrogressive political forces (in that era, pro-slavery and racist ideologues). Even after being repudiated in the midterm elections of 1854, 1858 and 1866, respectively, they ignored major currents of public opinion and clung to flawed policies. Bush's presidency certainly brings theirs to mind.
Bush would like to be viewed as Truman during the day.
His followers see him as Lincoln at the great divide.
Bush has taken this disdain for law even further. He has sought to strip people accused of crimes of rights that date as far back as the Magna Carta in Anglo-American jurisprudence: trial by impartial jury, access to lawyers and knowledge of evidence against them. In dozens of statements when signing legislation, he has asserted the right to ignore the parts of laws with which he disagrees. His administration has adopted policies regarding the treatment of prisoners of war that have disgraced the nation and alienated virtually the entire world. Usually, during wartime, the Supreme Court has refrained from passing judgment on presidential actions related to national defense. The court's unprecedented rebukes of Bush's policies on detainees indicate how far the administration has strayed from the rule of law.
History will make its decision on The Decider
, perhaps sooner and in far worse a way than he thinks. The other candidates are pulling for you, George. You may be the biggest winner, among the losers. That, of course, is just a gut feeling. Note: People who go with their gut feeling and brag about it regularly eventually are recognized for who they are: people too lazy to use their brains. This White House has been run by people who have presumed the people could be fooled all the time. We are smarter than that. We have the heart and the compassion our leader does not. Where will Bush end up in the end?