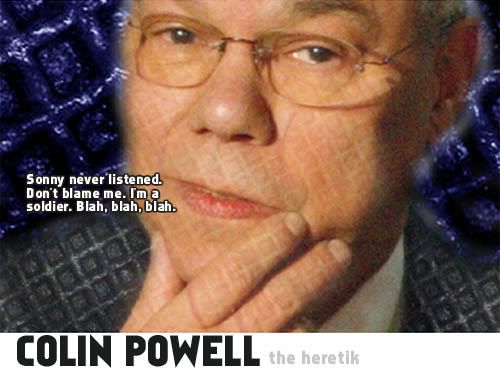 Soldier off in retirement comes back
to detail how he was chained by command. When the story of the debacle in Iraq gets told many years hence, a special place will be reserved for Colin Powell who
knew better on everything
, but
did nothing on anything that really mattered
. Falling in line with fools is the curse of military honor. Out of office, however, Powell has not been afraid to offer some parting shots.
The most recent volley?
The insurgency was growing and the country was spiraling into sectarian bloodshed, Mr. Powell warned. Elections in Iraq would not solve the problems, and the president's ability to act decisively was being crippled by divisions within his own administration, according to the account in "Soldier: The Life of Colin Powell" (Knopf, 2006) by Karen DeYoung, an associate editor at The Washington Post. Mr. Bush appeared disengaged, the book says, and brushed off Mr. Powell's complaints about dysfunction in his government.
A crisp salute.
Having written a critical book and having been cited as well in Bob Woodward's State of Denial as well, Powell snaps again to attention in his usual crisp way.
"The real issue right now is not the various books that are out but how things are going in Iraq and Afghanistan," Mr. Powell said. He would not share his views on the current state of affairs there, however.
Having had his say, Powell won't say anything more.
Until he does. Anonymously. And not so forcefully that he can change
anything.
He must be the most pitiful former commander in Washington, in command of nothing.
And the trivia marches on.
And on.
A few small facts lost
in the shuffle toward oblivion:
"Powell had never advised [Bush] against the Iraq invasion, although he had warned Bush of the difficulties and counseled patience."


"Powell knew "Sonny," as he referred to him, only in passing, and his private preference was for another Republican candidate: Arizona Sen. John McCain."


"[Powell] found Bush's fidgety impatience irritating, along with his tendency to interrupt everyone, from his Cabinet officers to visiting heads of state."


""We've really got to make the case" against Hussein, Bush told Powell in an Oval Office meeting in late January, "and I want you to make it." Only Powell had the "credibility to do this," Bush said. "Maybe they'll believe you." It was a direct order from his commander in chief, and it never occurred to Powell to question it."
Is Colin Powell a victim of GMS?
Does the MSM care about this version of S and M?
"In the "Great Man Syndrome," itself there is manifested a complete unwillingness to remove oneself from the central action (whatever it is), no matter how foolish this action may be as well as the expectation that one's opinions will be accepted as infallibly correct simply because they are the "Great Man's" thoughts."
What the future holds.
Powell will continue to waffle on toward his final breakfast, only to
leave us
with overcooked
poached
eggs and burnt bacon in Iraq and elsewhere. "
In answer to those who ask why he has not been more outspoken, Mr. Powell generally replies, "There's a war on."
"
Question:
What ring of hell will Powell end up in?
Crossposted at
The Heretik
,
now filled with 110% heresy
.