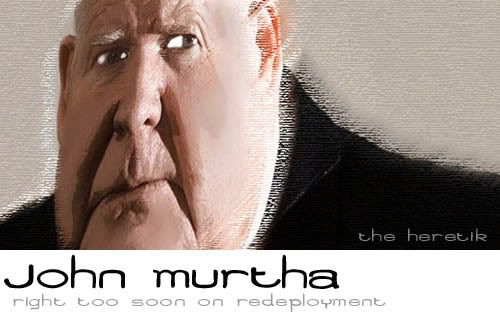 You gotta wonder what John Murtha makes of the latest leaks
on the Baker Iraq Study Group.
TimesOnline:
The Iraq Study Group is believed to favour withdrawing troops gradually to neighbouring countries such as Kuwait. A rapid reaction force could be established to deal with potential crises. If America withdraws in this way, Britain would be likely to leave Iraq entirely, according to a senior British source.

Baker has also suggested that America might have to abandon its long-term ambition of bringing democracy to the Middle East in favour of "representative government, not necessarily democracy".
A quick cut and turn.
It's hard to be right too soon. The same people who deride you as cutting and running now run with your ideas and the only one to blame in all this is you. How could this be more absurd?
The Heretik