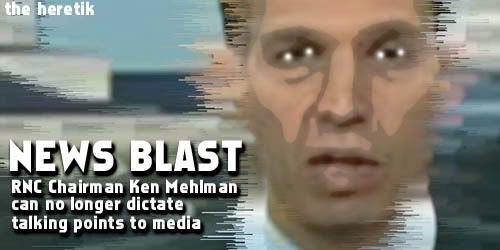 It must be tough to be Republican National Chairman Ken Mehlman these days.
The chairman of the Republican Party can't pull
dubious ads
he's paid for, but gets the benefit from even as he denounces them.
And then says they are fair
. And while Ken can't get all the media to play Barbie, this must be
some parody from ABC's The Note
:
How the (liberal) Old Media plans to cover the last two weeks of the election:

1. Glowingly profile Speaker-Inevitable Nancy Pelosi, with loving mentions of her grandmotherly steel (see last night's 60 Minutes), and fail to describe her as "ultra liberal" or "an extreme liberal," which would mirror the way Gingrich was painted twelve years ago.

2. Look at every attempt by the President to define the race on his terms as deluded and desperate; increasingly quote Republican strategists saying that the President is hurting the party whenever he enters the fray.

3. Refuse to join the daily morning Ken Mehlman-Rush Limbaugh conference calls, despite repeated invitations. . . .
You can stop reading the link after that last one.
The Heretik didn't. Now The Liberal Old Media should take its talking points not just from Mehlman
but from Rush Limbaugh
. And the biased media that has given Mister Mission Misaccomplished a pass and let him bask in September Eleventh should be bashed for not call the Pinata Pelosi an ultra liberal? And the President who can't call a news conference or demand an hour in prime time anytime suddenly has trouble defining the race on his terms. Is this a gag? Or should we just start gagging now?
The Heretik