…are
totally gay
!
The birds and the bees may be gay, according to the world's first museum exhibition about homosexuality among animals.

With documentation of gay or lesbian behavior among giraffes, penguins, parrots, beetles, whales and dozens of other creatures, the Oslo Natural History Museum concludes human homosexuality cannot be viewed as "unnatural."

"We may have opinions on a lot of things, but one thing is clear -- homosexuality is found throughout the animal kingdom, it is not against nature," an exhibit statement said.
B-b-but
Jeebus
! It's against Jeebus! Who cares about stinking
nature
?
One photograph shows two giant erect penises flailing above the water as two male right whales rub together.
Those can't be right whales! Surely, they're left whales. Far left whales! Far left whales with a radical gay whale agenda!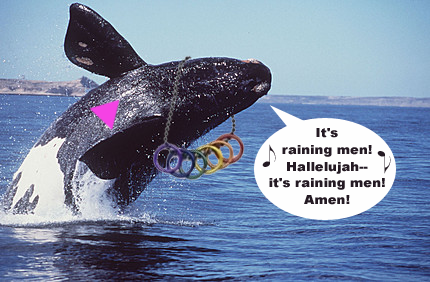 Whale Songs of the Right Whale
That's the best whale ever.
Anyone who's been paying the slightest bit of attention to this stuff knows that examples of homosexuality among animals has been documented for, um, ever. So I don't think this exhibit, unfortunately, will change anyone's mind who wasn't prepared to have it changed anyway, but it's still cool.