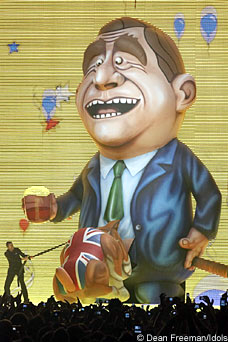 Oh, George,
you sassy wench
!
A mature, modest and (almost) scandal-free George Michael took the stage in his first solo concert in 15 years. But the pop star couldn't resist making another controversial dig at George Bush.

At the end of the first set Michael sang his 2002 controversial anti-Bush song "Shoot the Dog."

During the number, an enormous balloon depicting a cartoon-ish George Bush rose out of centre stage, drawing whoops and yells from the crowd. But the real surprise came when Michael leaned down to unzip the balloon's trousers, and out popped a British bulldog draped with the UK flag. The dog was stuck to the balloon's inflated crotch, wagging its tail.
Arf.
I believe that would be appropriately classified as a "controversial dig" at Tony Blair, too. Deservedly so.
(Via
Dlisted
.)