…for
Feministing's 2nd Annual Disturbing Product Poll
. Not totally worksafe, although I can assure you that all votes will be counted!
Below the fold are some of my suggestions for inclusion next year.

Beer Boobs: For that infantile, beer-swilling misogynist in your life who's never quite managed to cut the apron strings. Just stick the boob on the beer can and shove it in his mouth to stop the whining. (Warning: Side effects may include poopy pants.) Boob Tube TV remote control: This bikinied, disembodied torso will give you total control over a woman's body while you control the TV. Flip up the bra and flip down the panties to access the secret buttons—and play Tune-in Tokyo for grown-ups! It's the only remote control that can turn you on.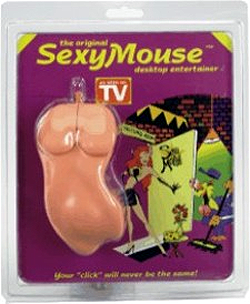 Sexy Mouse: This "desktop entertainer" will allow you to surf the plastic, miniature contours of a woman's body while you surf the web. It's just like feeling up your girlfriend, if you had one, without all the yapping. For the more discerning man who can't get enough of BOOBS, there's the simple boob mouse, which, as you'll note, is both Mac and PC compatible. Wind-up Boobs: The perfect gift for a man who already treats women like a set of walking boobs. Just wind her up…and off she goes! No batteries required, so you never have to worry that all your work won't get you exactly what you want.

(Isn't it interesting, btw, that all the boob products above, and at Feministing, are "white" boobs? I couldn't even find any of these products in boobs of color, which says something about the fetishization of race as well as the fetishization of female body parts.)