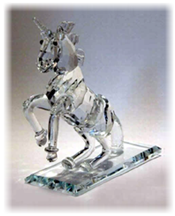 An excerpt from Tennessee Williams' "The Glass Menagerie."
TOM: And so the following evening I brought Jim home to dinner. I had known Jim slightly in high school. In high school Jim was a hero. He had tremendous Irish good nature and vitality with the scrubbed and polished look of white chinaware. He seemed to move in a continual spotlight. He was a star in basket-ball, captain of the debating club, president of the senior class and the glee club and he sang the male lead in the annual light operas. He was always running or bounding, never just walking. He seemed always at the point of defeating the law of gravity. He was shooting with such velocity through his adolescence that you would logically expect him to arrive at nothing short of the White House by the time he was thirty. But Jim apparently ran into more interference after his graduation from Soldan. His speed had definitely slowed. Six years after he left high school he was holding a job that wasn't much better than mine.
He was the only one at the warehouse with whom I was on friendly terms. I was valuable to him as someone who could remember his former glory, who had seen him win basketball games and the silver cup in debating. He knew of my secret practice of retiring to a cabinet of the washroom to work on poems when business was slack in the warehouse. He called me Shakespeare. And while the other boys in the warehouse regarded me with suspicious hostility, Jim took a humorous attitude toward me. Gradually his attitude affected the others, their hostility wore off and they also began to smile at me as people smile at an oddly fashioned dog who trots across their path at some distance.
I knew that Jim and Laura had known each other at Soldan, and I had heard Laura speak admiringly of his voice. I didn't know if Jim remembered her or not. In high school Laura had been as unobtrusive as Jim had been astonishing. If he did remember Laura, it was not as my sister, for when I asked him to dinner, he grinned and said, 'You know, Shakespeare, I never thought of you as having folks !'
He was about to discover that I did…
[
TOM enters With the caller, JIM O'CONNOR.
]
TOM: Laura, this is Jim. Jim, this is my sister, Laura.
JIM [
stepping inside
]: I didn't know that Shakespeare had a sister!