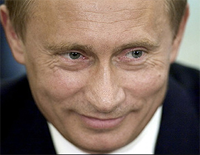 Apparently, my perception that the power-jostling and cliquishness at the G8 has left it resembling a summit with all the sophistication of a high school lunchroom isn't too far off the mark. It's even replete with
wacky shenanigans
:
Was the old KGB master at it again? A British television station says it has identified the person responsible for that open microphone catching a little unvarnished President Bush at the closing G-8 summit lunch in St. Petersburg. The culprit? Shockingly enough, they finger Russian President Vladimir Putin .

…The footage on Britain's Channel 4 shows Blair finally spotting and turning off the "telltale red light," and then the film cuts to Putin, grinning about something. A British reporter asked a Putin spokesman about this, but the spokesman insisted the broadcast was "an accident."
Quite a zany trickster, that Pootie-Poot.