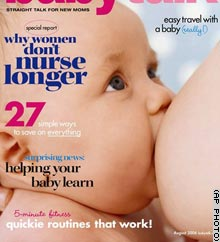 Boobophobes
(via
Chris Howard
):
"I was SHOCKED to see a giant breast on the cover of your magazine."

…"I immediately turned the magazine face down."

…"Gross, I am sick of seeing a baby attached to a boob."

…"I shredded it. A breast is a breast — it's a sexual thing. [My 13-yeard-old son] didn't need to see that."
Those are just some of the reactions to
Babytalk
's recent cover, which "incited more than 700 letters to the editor, a record for the magazine." A quarter of their 4,000 readers polled found the image "inappropriate."
"I respect it and think women have the right," says Kreutz, 34, of Bozeman, Montana. "But personally, it makes me really uncomfortable."

"I just think it's one of those moments that should stay between a mother and her child."
Said
a mother of two
, who didn't breastfeed her children in public, apparently blessed with infants whose hunger unfailingly coincided with the opportunity for discretion.
"I don't want my son or husband to accidentally see a breast they didn't want to see."
Bull
shit
. You don't want either of them seeing a breast
you
don't want them to see.
Women who react with horror at public breastfeeding infuriate me endlessly, because they're just promulgating the sexualization of the nursing breast, which is what creates this whole dynamic in the first place. They're almost inevitably prudes who believe our bodies are to be secreted away lest Jesus weep, but if the Almighty had a problem with women getting their tits out in public, then he would have put our nipples on our thumbs.
There are people who are uncomfortable with seeing women breastfeed in public, people who are not evil or intolerant or think boobies are dirty—they just get a little squigged out by it. But most of them don't think nursing in public should be banned, and I bet most of them wouldn't have the slightest objection to this magazine cover, either. It tends to be men and women who are extremely conservative, who worry about boys and men seeing errant breasts in public, who think that the body is sacred but its functions aren't, who rail against stem cell research and abortion because "every life is precious" but don't care to see that precious life being nurtured. Tiresome, that lot.