…
whether we pay attention or not
.
According to the coroner's office in New Orleans, the city's suicide rate nearly tripled in the months after Katrina. A suicide rate of nine per 100,000 residents jumped to almost 27 per 100,000 residents.

…The New Orleans police department operates a "crisis unit" that helps people who need to be protected from harming themselves. Sgt. Ben Glaudi, the man who started the unit 24 years ago, says there has been a dramatic increase in the rate of people who need to be helped.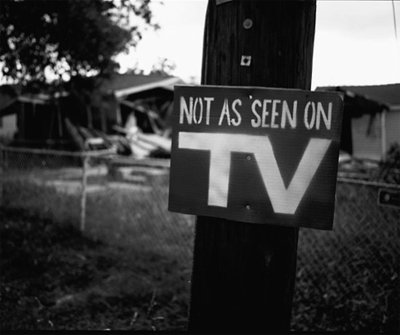 Image from a
Chicago Tribune
slide show of photographs from New Orleans' lower 9th ward taken by Pete Souza nine months after Katrina. You can view this very moving slide show
here
.
Claire has
some information
on helping restock NOLA's libraries. I'm highlighting that in particular, even though there are still many more ways to help, because although of course there is a continuing need for donations, for tangible items, for money, surely lifting spirits in New Orleans is dependent on breathing life, slowly but surely, back into its culture, too.