Jason Reed is a Reuters photographer so splendiferously talented at capturing Bush at his essence that I look forward to checking out his photos in the daily newsphoto dump the way I look forward to reading a favorite blog each day. I would bet that about 80% of the photos I choose for "Caption This Photo" are Jason Reed snaps.
But today, Shakers, he has outdone himself, giving me in a rare combo shot what is, to date, the best news photo I have seen since I began blogging, and quite possibly the best news photo ever.
U.S. President George W. Bush reacts in this combination picture as Merchant Marine Academy graduate Gabriel Whitney of Nashua, New Hampshire, gives him a big hug after Whitney received his degree at the U.S. Merchant Marine Academy at Kings Point in New York, June 19, 2006. Bush addressed the Academy's 2006 graduating class. REUTERS/Jason Reed (UNITED STATES)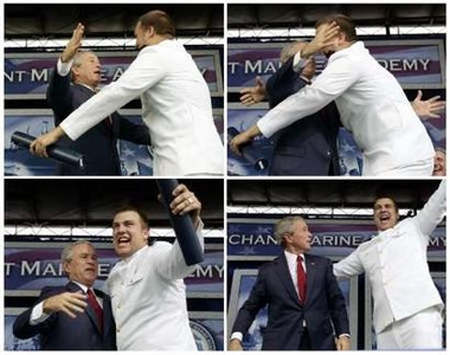 Absolutely priceless.