No disassemble Number 3000!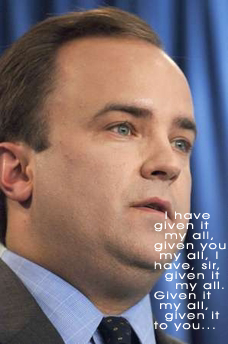 Appearing with Bush on the White House South Lawn just before the president boarded a helicopter at the start a trip to Alabama, McClellan, who has parried especially fiercely with reporters on Iraq and on intelligence issues, told Bush: "I have given it my all sir and I have given you my all sir, and I will continue to do so as we transition to a new press secretary."

Bush said McClellan had "a challenging assignment."

"I thought he handled his assignment with class, integrity," the president said. "It's going to be hard to replace Scott, but nevertheless he made the decision and I accepted it. One of these days, he and I are going to be rocking in chairs in Texas and talking about the good old days."
This certainly isn't the only thing on which the president and I have a disagreement, but his definitions of "class" and "integrity" are clearly very different than mine.
Fare thee well, McClellatron. May your vacant tin chest one day get the heart it desires.