Joe Lieberman says he
won't rule out
running as an Independent if he loses the Democratic primary for his Senate seat.
He says he'd prefer to run as a Democrat, because he's "been a Democrat all [his] life," which I find an interesting explanation. Not so much Democratic principles, but habit—which is at least honest. As an Independent, he certainly wouldn't have the likes of
Barack Obama showing up to support him
.
Republican Paul Streitz who is seeking his party's nomination to challenge for the Senate seat, said he would gain if Lieberman runs as an independent.

"A Republican would win, obviously," he said. "It would split the Democratic vote."
You know, something tells me that wouldn't bother old Lieberman too much.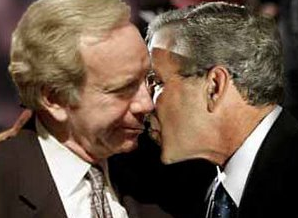 Mmm, delicious.