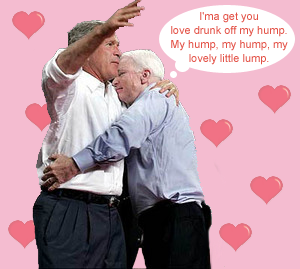 And McHump really, really,
really
loves Da Preznit
.
It's early on at the Southern Republican Leadership Conference down here, but already we've learned some big news.

Sources tell me that Sen. John McCain, R-Ariz., plans to shock his supporters tonight by asking them to NOT vote for him in the presidential straw poll that will be conducted by The Hotline on Saturday.

Instead, McCain will urge his followers to write in President Bush's name.

McCain will tell his supporters that this is not about 2008, but rather about 2006 and supporting the president.

According to McCain's supporters, he'll say: "I think we have bigger things to worry about. So if any friends here are thinking about voting for me, please don't. Just write in President Bush's name."
That's beautiful. I can't wait until they legalize gay marriage so these two crazy kids can get hitched once and for all.
Luckily, one of my secret informants managed to infiltrate the Southern Republican Leadership Conference and got me an advance copy of McHump's ballot. If this isn't the sweetest thing you've ever seen, you've got a heart of stone, you bastard.