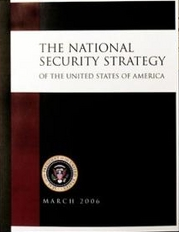 In a 49-page national security report, Bush has "reaffirmed his strike-first policy against terrorists and enemy nations on Thursday and said Iran may pose the biggest challenge for America."
[D]iplomacy is the U.S. preference in halting the spread of nuclear and other heinous weapons.

"If necessary, however, under long-standing principles of self defense, we do not rule out the use of force before attacks occur — even if uncertainty remains as to the time and place of the enemy's attack," Bush wrote…

The latest report makes it clear Bush hasn't changed his mind, even though no weapons of mass destruction were found in Iraq.

"When the consequences of an attack with weapons of mass destruction are potentially so devastating, we cannot afford to stand idly by as grave dangers materialize. ... The place of pre-emption in our national security strategy remains the same," Bush wrote.

The report had harsh words for Iran. It accused the regime of supporting terrorists, threatening Israel and disrupting democratic reform in Iraq. Bush said diplomacy to halt Tehran's suspected nuclear weapons work must prevail to avert a conflict.
I'd feel a lot less nervous (and pissed and fed up) about this if I didn't know that the Bush administration, with help from their complicit enabler the Blair administration, deliberately circumvented any possible diplomatic resolution with Iraq. It would serve us well to remember that one of the most damning revelations of the
Downing Street Memos
was that the process of going to the UN was a sham for Blair's sake and that disarmament was not an option; regime change—war—was always the singular goal.
There's no reason on earth to trust that Bush will not do the same thing again. If it's war he wants, war he'll get. And he'll sell its urgency and inevitability the same way—by asserting that diplomacy has failed.