Okay, I admit it. I love
American Idol
. Not only do I love it; sometimes I even—
gasp! the shame!
—vote.
I watched the first three seasons, and by the end of the third, I was done. I swore I was done. I was
Idol
ed out. So I didn't watch the last season, when, from what I understand, some blonder, blander version of Kelly Clarkson duked it out with some long-haired rockboy. And I don't feel like I missed anything.
When the new season started, I was just going to watch the auditions. The auditions are funny, I rationalized. It's just for humor. I won't get hooked again.
Dammit. I'm totally hooked.
And, unlike the first season, when even the runner-up, Justin "Sideshow Bob" Guarini, not to mention the rest of the mostly useless finalists, were approximately as interesting and talented as a muddy boot, almost everyone in the top 24 are frickin' awesome. It's gonna be a good season—I can feel it!
Mandisa's totally got my number.
And I'm also fairly certain that Chris Daughtry is really Live's Ed Kowalczyk.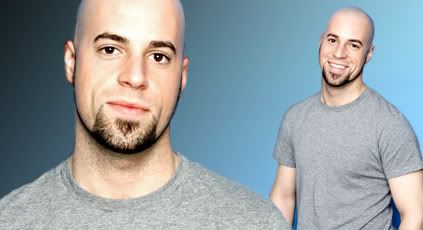 He alone loves you.