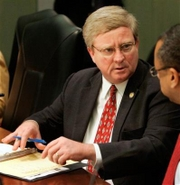 Hair tragedy, shady bastard, and GOP Ohio Congressman Bob Ney is
under pressure
from House Speaker Denny Hastert to resign as chairman of the House Administration Committee.
…Justice Department documents linked Ney to a bribery scheme involving convicted lobbyist Jack Abramoff.

Ney's committee has jurisdiction over the Republican reform agenda in the wake of the Abramoff scandal, and Hastert believes it is inappropriate to let Ney run it, said a GOP leadership aide, who spoke on condition of anonymity because of the negotiations between Ney and the speaker.
Yeesh—a guy's got some kind of serious ethical problems when the odious, oversized bloatsack known as Hastert thinks you're too crooked to stay your course.
BradBlog's got
more
.