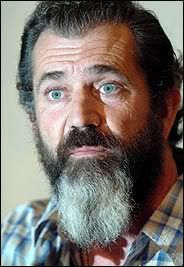 Currently suffering from the misapprehension that elaborate beard-growing can garner a guy an Oscar—a theory disproved in
2000
by Tom Hanks—Mel Gibson, foremost purveyor of religious gore-porn and son of Holocaust denier Hutton Gibson, has been
tapped
to develop a mini-series for ABC about the Holocaust.
Mr. Gibson's television production company will base the four-hour miniseries for ABC on the self-published memoir of Flory A. Van Beek, a Dutch Jew whose gentile neighbors hid her from the Nazis but who lost several relatives in concentration camps.

The project is in its early stages, so there is no guarantee that it will be completed. Mr. Gibson is not expected to act in the mini-series, nor is it certain that his name, rather than his company's, will be publicly attached to the final product, according to several people involved in developing it.

But Quinn Taylor, ABC's senior vice president for movies for television, acknowledged that the attention-getting value of having Mr. Gibson attached to a Holocaust project was a factor.

"Controversy's publicity, and vice versa," Mr. Taylor said.
Call me old-fashioned, but generating buzzzzzz for a program about one of history's most appalling tragedies by giving cash to someone whose best attempt at repudiating deniers of its existence is "Atrocities happened. War is horrible. The Second World War killed tens of millions of people. Some of them were Jews in concentration camps," seems, oh, I don't know, kinda nauseating.