The only question is which sick fuck—do I hear Pat Robertson? Jerry Falwell?—is going to be the first to blame the Macy's Day Parade
float accident
on the gays? It won't be Dr. Dobson, whose Focus on the Family has deemed their
anti-gay ball tossing
a success, even though they were sad that a near-tragedy
stole their thunder
.
Members of a conservative Christian group handed out "stress balls" promoting a web site that claims homosexuality can be changed through faith at Macy's Thanksgiving Parade. But the publicity stunt was overshadowed by the crash of one of the parade's famous balloons into a light post at Times Square, injuring two people.

Focus on the Family said that it distributed about 5,000 of the balls along the parade route, but hopes that it would be captured by TV cameras were dashed.

A spokesperson for producers of the parade telecast said they do not show controversial or political messages. News cameras covering the parade were diverted to Times Square to cover the accident.

Handlers of the giant M & M balloon somehow lost control and it struck a lamp post, sending the light to the ground in a handicapped seating area on Broadway, between 43rd and 44th Streets. Two people were injured and transported to Bellevue Hospital with unknown injuries.

Despite not getting their "stress ball" promotion telecast coast-to-coast, FOC called it a success.
Reached for comment, the
hugely
gay
Sponge Bob Squarepants said that having 5,000 anti-gay balls thrown at him has not deterred his passionate promotion of the radical gay agenda.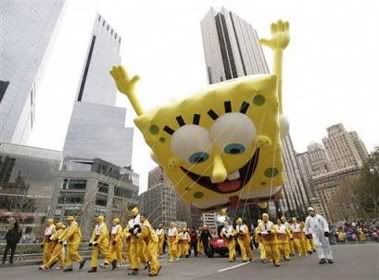 "I'm coming to get you, Dobson!"