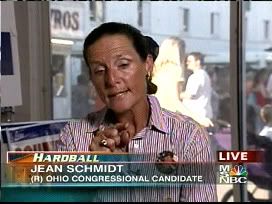 Scary Lady from My Childhood Nightmares and Ohio Congresswoman Jean Schmidt is running into a little trouble with those comments she issued from the floor of the House.
Ms. Julien and Holly in Cincinnati
have been keeping tabs on old Jean, and they link to an
article
in the
Cincinnati Enquirer
which reports that the Marine behind whom Schmidt was hiding, when she made the thinly veiled reference that Rep. Murtha is a coward, is disputing her comments.
Danny Bubp, a freshman state representative who is a colonel in the Marine Corps Reserve, told The Enquirer that he never mentioned Rep. John Murtha, D-Pa., by name when talking with Schmidt, and he would never call a fellow Marine a coward…

Bubp, who has served in the Marine Corps Reserve for 27 years, including three years of active duty, said he called Schmidt on Friday afternoon to discuss the resolution that called for the immediate withdrawal of troops from Iraq - not to talk about Murtha.

The House nonbinding resolution failed by a 403-3 vote.

"There was no discussion of him personally being a coward or about any person being a coward," Bubp said. "My message to the folks in Washington, D.C., and to all the Congress people up there, is to stay the course. We cannot leave Iraq or cut and run - any terminology that you want to use."

Still, Bubp said the whole thing has been blown out of proportion.

[…]

"I could just imagine how nervous she must have been on the floor with everyone watching," Bubp said. "I don't want to be interjected into this. I wish she never used my name."
Pretty magnanimous of Bubp to defend Schmidt, even half-assedly, especially since, thanks to her, angry constituents are calling for
both
of their resignations. I'm not sure, however, that he's right that the whole thing has been blown out of proportion. I mean, let's remember what happened here: in the middle of a debate which ensued after her party deliberately misconstrued Murtha's resolution as part of a ridiculous political stunt, Schmidt got up to speak, dressed in a stars-n-stripes jumper, proceeded to misquote one of her own colleagues ("[Bubp] asked me to send Congressman Murtha a message: That cowards cut and run, Marines never do."), thereby impugning the bravery of a man who has dedicated his life to American service, first in the Marines and then in Congress, and breaking the House rules which prohibit name-calling of fellow lawmakers, and was then forced to immediately withdraw her remarks, also following up with a letter to Murtha explaining that she "has a lot to learn."
In other words, she was a total disgrace.
Boy, I hope the people of her district are proud they elected her instead of veteran Paul Hackett.
(Image of Scary Jean from
Crooks & Liars
.)