So, at this point, my own geekitude is fairly well established, with various admissions about bookishness,
video game fandom
, encyclopedic knowledge of movie trivia, fantasy, sci-fi, and kung fu film devotion, and various other telltale signs of geekishness, not to mention having revealed yet its further depths in comments threads both
here
and at
Mannion's place
recently.
And I'm happily not the only one, as the comments thread associated with D's
Batman Begins post
, among many others in the past, will attest.
So here's the Question of the Day for all my fellow geeks…what's your ultimate geek indulgence? Or, if you dare, share a story of true geekitude with the rest of us. To get that ball rolling, I'll share the first ever posted picture of Shakespeare's Sister, circa 1982, sound asleep with my Princess Leia braided buns still intact.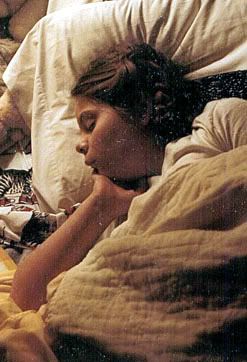 I can assure you that my Darth Vader head carrying case with all my action figures was tucked snugly under the bed, where I put it for safekeeping every night after a vicious battle between the Rebels and the Empire.