Cookie Jill at
Skippy
:
imagine if you will....

you are mayor of a major american city. you are woken up at 3:30 a.m. by your police chief with news of a terrorist bombing on public transportation in london. what would you do?

antonio villaraigosa gets up and spends the morning riding public transportation and talking with passengers about their lives, troubles and concerns. he, by action, reminds the public that public transportation is not to be feared today, tomorrow or down the road.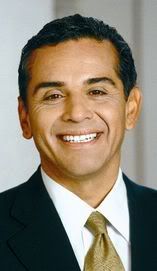 Los Angeles Mayor Antonia Villaraigosa
I like that. I like that Mayor Villaraigosa made a positive statement, affirmed that which is best in us all, in such a simple way. I like it a lot, and I want to give him a big hug.
*squeeze*